5 Covid-Friendly Practices to Follow for your School-Going Kid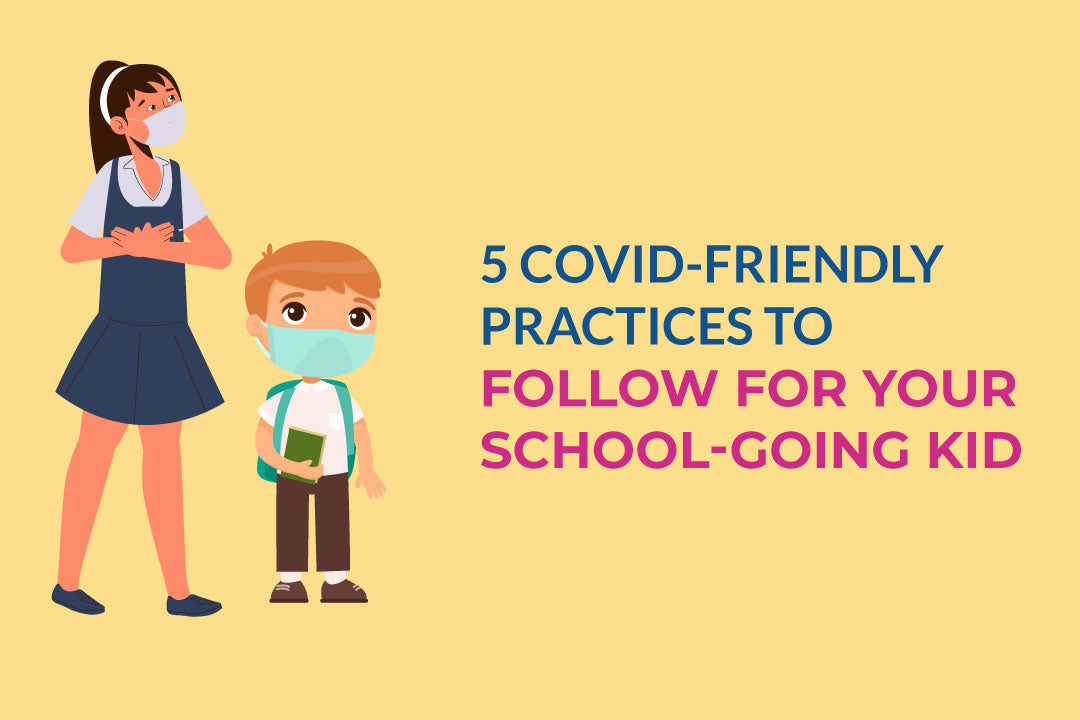 With schools finally reopening, the prospect of your child returning to a classroom full of other kids might be daunting.
As you prepare to send your children back to school, remind them to follow normal COVID-19 measures including wearing a face mask, keeping a safe distance, and washing hands with soap or sanitizing regularly.
Wearing Masks: The WHO and CDC recommend that anyone over the age of two should wear a mask that snugly covers the nose and mouth when inside the school and on school buses where there is a high risk of COVID-19 transmission. When sending your child to school, keep these tips in mind. Every day, give your child a clean mask and a backup mask. Also, give them a resealable bag to keep the mask in when they can't wear it, like at lunch. 
Vaccination: The COVID-19 vaccines are safe and effective, and are recommended for all adults and kids from the age of 12 and above. Everyone eligible should get the COVID-19 vaccine and booster shot as soon as possible. In order to send your kid back to school without constantly worrying about his/her safety, it is important you take this necessary precaution. 
Cleanliness: Talk to your child about the significance of keeping their hands clean by washing them thoroughly with soap and water or using hand sanitizer. Coughing and sneezing should be covered with a tissue or stuffed into the inside of their elbow. Washing their hands reduces the risk of being ill from coming into contact with any contaminated surface and then transmitting the virus to their eyes, nose, or mouth when they touch their face. 
Sanitize and Disinfect: Whether your child is attending school in-person or from home through online classes, cleaning and disinfecting frequently touched surfaces (like faucets, doorknobs, laptops, keyboards, tablets, and phones) helps in reducing the risk of infection.
Make Him Stay Home If Sick: Keep an eye on your child daily. In case of any signs and symptoms make sure he stays back at home. 
Social Distance: Even if your child has been vaccinated, social distance is still crucial. Teach your child to maintain at least 3 feet distance from others when in school. For some people (like staff and teachers) or in some settings (cafeteria or in the auditorium), staying 6 feet apart is advisable.
To look out for our young ones, communities, families, and schools must come together to ensure the safety of the students by taking all the precautionary measures necessary. Every eligible person should get vaccinated. In addition, the parents can get their kids vaccinated against flu including other routine vaccines to prevent infections. As long as everyone does their bit, safety and protection can be ensured. 
Check out Romsons' wide range of face masks, especially Kare Mask Child, N95 respirators. 
These masks are designed especially for kids. They are light in weight and provide 99% Bacteria Filtration efficiency with comfortable elastic ear loops to ensure a snug fit experience. 
These masks are designed to offer complete protection with utmost comfort. Crafted from hypoallergenic, skin-friendly & breathable non-woven fabric, these masks are entirely safe for kids.
---
Share this