6 Tips For Caregivers Of The Bedridden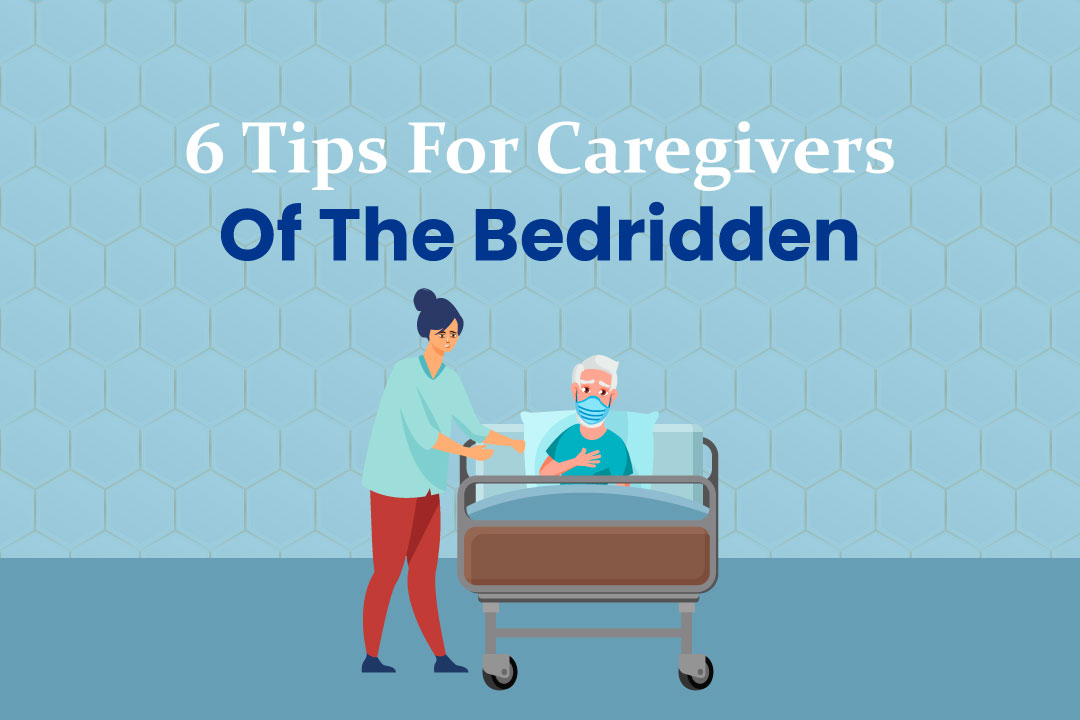 Growing older brings its own set of difficulties. An older person is more vulnerable to infections, ailments, and illnesses. Incontinence is the most common problem that an aging adult may encounter, among many others. In such circumstances, getting around their daily lives becomes difficult.
Sometimes when elders are bedridden, it becomes even more daunting to look after their daily needs. Since it is difficult for them to look after themselves, a caregiver is needed to meet their daily needs and requirements.
As a caregiver, you must also be aware of other important factors like their physical and mental health while caring for the elderly at home. So, here are some useful tips that may help you take on the role of the caregiver and look after the bedridden elderly at home. 
Look after their basic hygiene
Bedridden elders are often unable to perform basic hygiene tasks such as bathing. Therefore, you must make it easier for them to maintain proper basic hygiene. While maintaining proper hygiene of the bedridden adult can be challenging, with proper preparation it can become easier. 
If the elderly can bathe themselves, shift them to a shower chair or assist them with a sponge bath. For the elders who have difficulty carrying out the task themselves help them with a body wipe. Believe it or not, adult body wipes are your savior here. These wipes are an excellent alternative to bathing without compromising the personal hygiene of the bedridden person. 
Romsons Spongee Adult Body Wipes are an excellent alternative to showers and sponge baths. These are very soft, smooth, and safe body cleansing wipes. They are effective in getting rid of germs, dirt, and grime on the body and refreshing the skin.
Another very important thing you may want to invest in is Adult Diapers. Adult diapers are a must-have for bedridden adults who are also struggling with incontinence. Not only do they prevent bladder leakage, but with their super absorbent core and quick lock technology, they keep the user dry and comfy. Go for Dignity Adult Diapers. It is crafted from hypoallergenic fabric that protects the sensitive skin of the elderly's from rashes and irritation while also keeping them dry and comfortable. Dignity Adult Diapers come in three different types and sizes to fit the varying needs of the adults. Its super-absorbent core locks moisture quickly and prevents any bladder leaks. 
These adult diapers are a necessary investment for the upkeep of proper hygiene. Other than bathing, foot and hand hygiene is equally important. Make sure to trim their fingernails and toenails frequently. Don't forget to pay attention to their dental care as well. Keep certain items such as a toothbrush, a bowl of water, and a bowl to spit water near their bed. Looking after them and taking care of these basic hygiene-related tasks will go a long way in keeping them healthy and happy.
 Change their Bedsheets Frequently
One of the major issues a caregiver might come across when looking after an incontinent adult is having to change bed sheets frequently. Getting the laundry done regularly is important to maintain good hygiene and health for the adult. It can, however, get tedious changing sheets frequently.  
The best way out of changing sheets frequently is using underpads instead. Bed protector underpads are designed especially to protect multiple surface areas from any kind of fluid damage. Dignity Mattey is a disposable bed protector underpads designed to protect multiple surfaces including mattresses, linens, etc from leakages. It comes with a super-absorbent core that locks the moisture quickly. Its distinctive quilted pattern aids in fluid dispersion. The top sheet is exceptionally soft, giving the user a cloth-like feel while keeping them dry and comfortable.
Check for Bed Sores
While taking care of a bedridden adult one of the most important things to look out for is bed sores. These usually occur due to undue pressure on the skin caused by laying down on the bed most days. To avoid these bedsores, you can use smoothened cotton or silk sheets or you can try switching to anti-sore mattresses.  
To save yourself time and effort, invest in Romsons Anti-Sore Mattresses. These pressure mattresses come with an LED On/Off switch and a rotary dial for pressure setting. One of the advanced features of the mattress is its alternate inflation and deflation of the cell, hence, helping to keep the pressure off the body parts for long hours and constantly changing the pressure points. 
Bedsores usually appear on butts, shoulders, at the back of the head, and even on the feet. For this, try to moisturize their skin regularly and make sure that they stay hydrated throughout the day.
 Make Healthy Food Choices
A well-balanced diet plays a key role in keeping many other health-related issues at bay. So while elders are bedridden we must provide them with a well-balanced and healthy diet. You can always keep a track of their daily nutrients and calorie consumption. This will allow you to keep track of their dietary habits while also keeping the doctor informed. Also, make sure you comprehend the food and diet recommendations given by the doctors and dieticians. 
Take Care Of Their Surroundings
Looking after the bedridden elderly is not just limited to hygiene and nutrition. While they do play an important role, caring for them stretches beyond this. The bedridden elders have no option but to stay in their beds. During this time, their surroundings can impact their mental being. Hence, taking care of their surroundings is a given. You must create a well-kept, healthy and comfortable environment for them. You can achieve this by creating a space with natural light and fresh air. Have their space surrounded by some books, water, reading glasses, etc that are easily accessible to them.
Keep Them Company
Again, just meeting a bedridden person's hygiene, health, and diet requirements aren't enough. Keeping them company and communicating regularly with them will allow you to offer them some much-needed emotional support. Talk about things like weather, movies, or songs they liked. You can engage them in a light and breezy conversation about people connected to them, show them some family photos, and can also read to them something they enjoy. This will assist  them in staying calm and relaxed. 
Taking on the role of a caregiver is no easy feat. A caregiver's responsibilities include cleaning, grocery shopping, cooking, assisting with medical appointments, and managing prescriptions. However, your responsibilities are ultimately determined by the health and needs of your loved one. 
Assisting your loved ones and making things easier for them while they struggle in keeping up with their daily life will require more than just looking after their health, hygiene, and diet. Following the above tips will help you be more prepared.
Don't hesitate to ask for an extra helping hand if it gets too much. 
---
Share this