Adult Cleansing Wipes - All You Need To Know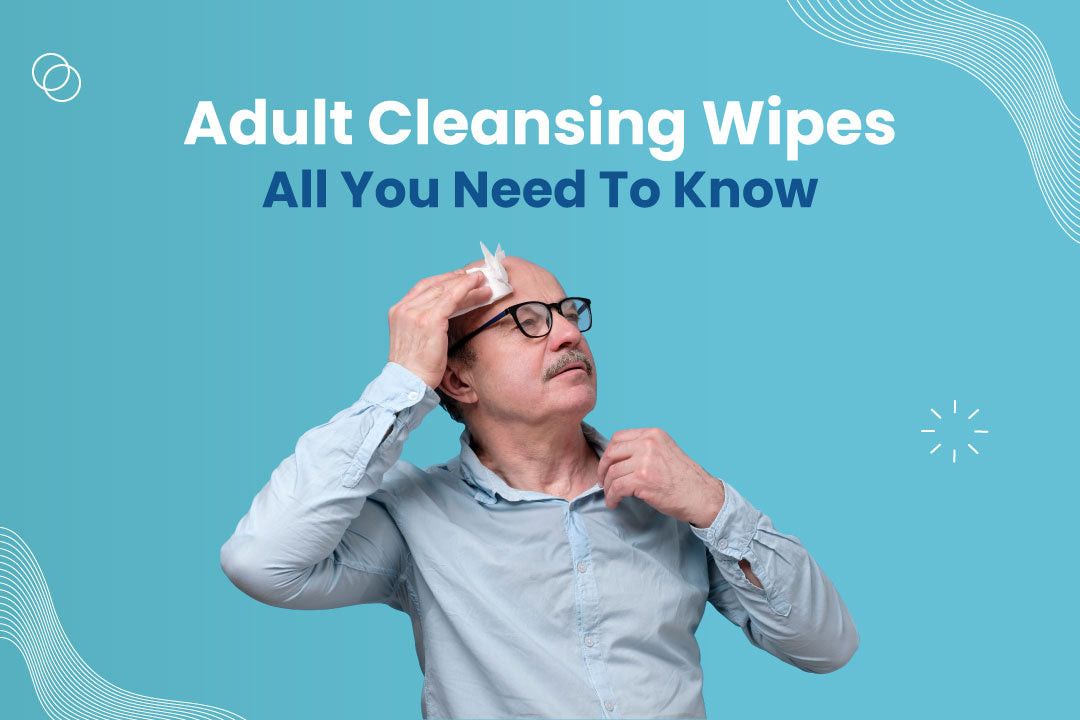 What Are Adult Cleansing Wipes? 
Adult Body Cleaning Wipes are made to meet personal hygiene requirements and are perfect for people who might have mobility problems, incontinence issues or simply for refreshing purposes for those on the go. These body cleansing wipes, as opposed to antibacterial or face wipes, can be used to clean and moisturize skin all over the body, even the sensitive areas. 
In general, face wipes (wet wipes) are more known and used by masses than body wipes. Some people try to utilize these daily wet wipes for other body areas. However, we strongly recommend against it. It is important to know why. The purpose of wet wipes is to remove debris from the face, including grime, sweat, and makeup. Adult cleansing wipes also work similarly but they are specially designed to use it for the entire body
Then there are antibacterial wipes that contain disinfectant and are crafted solely to kill germs effectively. They are meant to be used for your hands or for cleaning the surface. Again, we recommend against using it for any other body part as it can end up irritating your skin. Some harsh chemicals that are used in manufacturing these wipes may cause itching, redness, or swelling. To top it off, there is always a chance of allergic reactions.
In short, to wipe your body off germs, dirt, grime, and sweat we advise going for adult body cleansing wipes which are manufactured for the sole purpose of ridding your body of these without harming it in any way possible. 
Why Use Adult Body Cleansing Wipes?
Now that we are aware of what body cleansing wipes are, let us get down to why you should go for body cleansing wipes.
To begin with, they are an effective, practical, and convenient alternative for personal hygiene. Many of the body wipe packs have simple tear and open seals that can be sealed back for future use, making them portable. A quick wipe-down is a great go-to option when you do not have access to bathing facilities.
The mobility issue should also be taken into account. Elderly or disabled individuals face difficulty entering and exiting the shower. If this is the case, a cleansing wipe is a fantastic substitute. Both family caregivers and caregivers can benefit from them. Adult body wipes are usually a good workaround for helping someone who needs assistance with personal care but is at risk of falling or is unlikely to cooperate with bathing.
Another great advantage that body cleansing wipes have in their favor is that they are cost-effective. You can very easily find plenty of brands that have budget-friendly prices to offer for these cleansing wipes. 
Finally, some cleansing wipes are infused with ingredients such as Aloe Vera, Vitamin E, mild fragrances, and other kinds of lotion to keep skin smooth and moisturized. 
How to Choose the Right Body Cleansing Wipes for You?
It is not very hard to find these body cleansing wipes. You can easily get your hands on these online or in pharmacies. However, before you go choosing one for your use, you must take a few factors into account.
A lot of cleansing wipes come with a mild fragrance. Wipes with a mild fragrance leave a refreshing feeling after use. However, people who are sensitive to chemical smells, particularly perfumes, can always go for unscented wipes. 
If you tend to get dry skin, then choosing a wipe with lotion is an apt choice to make. But for people with combination, normal and oily skin we recommend they go for body wipes without lotion.
Wipes are notoriously popular for causing plumbing problems and environmental damage because they're hard to break down. Buying flushable wipes doesn't necessarily tackle this issue. We suggest you read the disposal instructions given on the pack you intend to buy carefully.
Skin-friendly ingredients like Aloe, Chamomile, and Vitamin E can be added to cleansing wipes to provide softening benefits. 
Check out Dignity Spongee Adult Body Cleansing Wipes which makes for an ideal hygiene and travel partner. Here's why:
Spongee Adult Body Wipes are crafted from the smoothest hypoallergenic fabric that gently soothes and moisturizes the irritated skin and help maintain personal hygiene with ease. 

These are clinically approved, alcohol & paraben-free wipes, infused with the goodness of Aloe Vera and Vitamin they provide moisture to the skin. 

Dignity Spongee is highly recommended for sensitive skin as they also help in maintaining the pH balance of the skin.

Their portability and ease of use anywhere makes them suitable for traveling.
To know more about Dignity Spongee Adult Body Wet Wipes, Click Here.
---
Share this