Best Manual Breast Pumps in India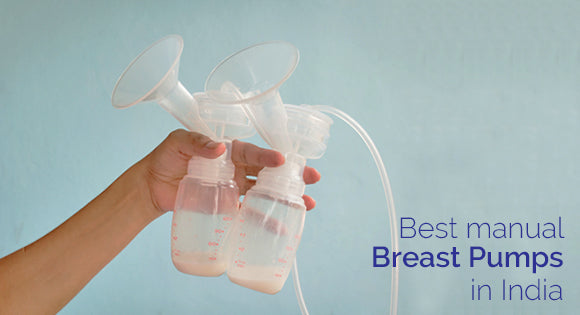 The most important factor when it comes to buying a breast pump is the frequency of use. One of the key women care products, manual breast pumps are the best suited for mothers who occasionally pump and feed their babies like homemakers who don't go out regularly. Since manual breast pumps consume more time and can get tiring for your hands they should be chosen sporadically. Check out our list of the best manual breast pumps in India.
Romsons Professional Care Manual Breast Pump 
Romsons Professional Care Manual Breast Pump provides professional care to the mother for blissful motherhood. Being an adjustable manual breast pump, the secretion power can be changed with the help of the pull rod. This easy to use manual breast pump by Romsons massages the breasts and stimulates more milk secretion to give you the most comfortable breastfeeding experience.
Medela Harmony Breast Pump
Medela Harmony Breast Pump works on a two-phase expression that mimics natural breastfeeding and induces the letdown reflex. It comes with a handle that has a longer and shorter side. On pumping with the shorter end, the breast pump begins a small quick suction cycle similar to the feeding pattern of a hungry baby. This manual breast pump results in deep, slow suction that draws out maximum milk from the breast. This pump is small in size, easy to clean and suits a woman's body very well.
Luvlap Medela Manual Breast Feeding Pump
LuvLap happens to be a world-renowned brand that is trusted by women all across the globe. Made of 100% safe and high-quality food-grade materials, Luvlap Medela Manual Breast Feeding Pump features a leak-proof design and is 100% sterilizable which not only confirms zero contamination but also ensures zero wastage of milk. The pump is accompanied by soft silicon massage pads that help to relieve soreness among lactating mothers. You also get an extra container to store the pumped milk and a storage pouch to carry the device while you are traveling. Luvlap Medela Manual Breast Feeding Pump is easy to assemble and clean and is pocket-friendly as well.
Trumom Manual Breast Feeding Pump
Trumom is another well-known name. This product has been carefully designed using FDA approved baby safe food-grade silicone. It reduces the strain on the hand and wrist and hence can be used multiple times in a single day. It has dual suction modes – half stroke and full stroke. While the half stroke operation mimics the baby's sucking motion to initiate the milk flow, the full stroke mode imitates a baby's regular sucking motion to express the milk out. You can easily control the pressure and frequency of expressing the milk and can extract sufficient amounts as per your requirement.
Philips Avent Manual Breast Pump
This women care product comes with a soft massage cushion which activates the letdown reflex smoothly. It extracts milk even when the mother is sitting straight as per her comfort. That means you need not lean forward to ensure that the milk falls into the bottle. You also get a feeding bottle along with the breast pump which has a specialized nipple that lets your baby latch on without any nipple confusion. Philips Avent Manual Breast Pump is easy to assemble and clean as well. Though it is slightly expensive it is worth every penny spent!
Pigeon Manual Breast Pump
One of the most notable features of this Japanese brand's manual breast pump is its perfect sealing air cushion. Pigeon Manual Breast Pump is comfortable to use, easy to clean and comes with a 150ml feeding bottle.
R for Rabbit First Feed Manual Breast Pump
This product offers 4 suction levels and has been designed to provide a better sitting position. It has soft silicone breast pads that come as a part of the product and ensure comfortable pumping and an attachable soft nipple cap. This manual breast pump comes with a leak-proof container that can hold the expressed milk for a long time.
Manual breast pumps are available online also. You can buy the best manual breast pump in India as per your choice.
---
Share this