Body Cleansing Wipes To Maintain Adult Hygiene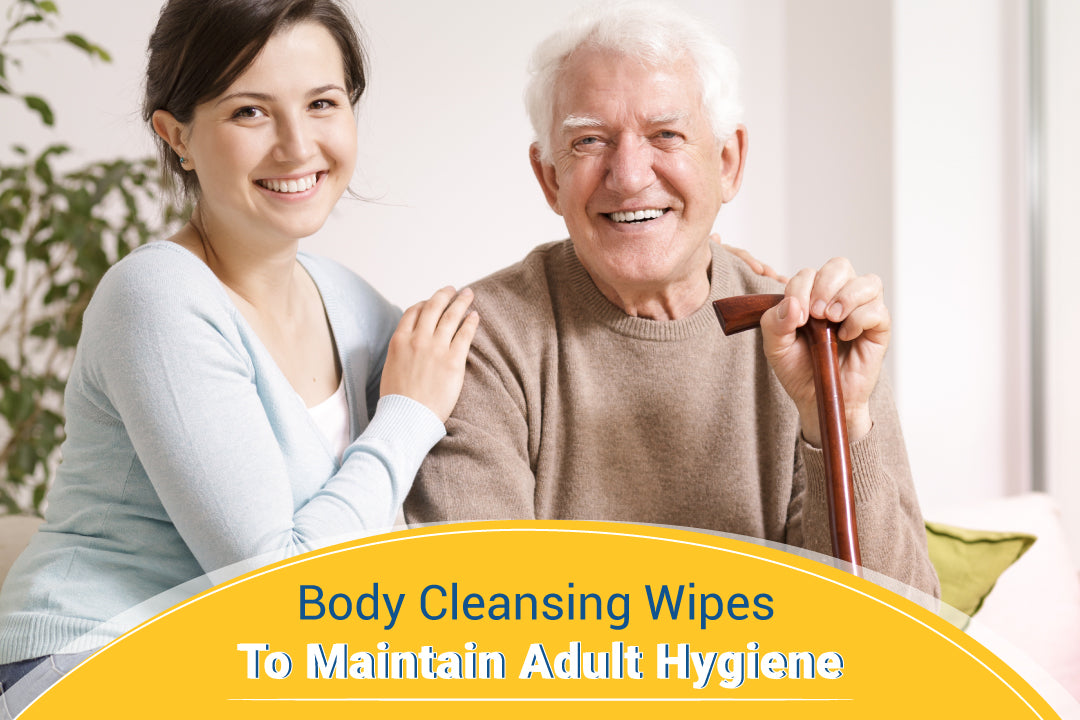 Body Cleansing Wipes To Maintain Adult Hygiene
When age starts catching up with your near and dear ones, keeping up with the routine tasks can be challenging. What is more challenging is taking on the role of a caregiver. Looking after bedridden adults or post-operative patients and providing them round-the-clock care can be a bit overwhelming. Understanding and meeting the needs of a senior is essential. Their need for assistance isn't just limited to helping them with food, medicine, and timely check-ups. As a caregiver helping an adult maintain their personal hygiene is also necessary and that is exactly why it's time you befriend adult body cleansing wipes.
Why Adult Body Cleansing Wipes?
Here's why, adult body wipes are a great and more hygienic option to go for:
Effective, Affordable & Hassle-Free
Body wipes are an effective alternative for aging adults. It gently cleanses the skin leaving the area dry and soft, conveniently eliminating the hassle involved in bathing. Its affordability and value for money add to the appeal.
Easy to Use, Carry and Dispose
Body cleansing wipes come in handy while traveling. The caregiver can always carry wipes around, saving themselves the hassle of packing towels and making sure the senior is  clean at all times. Apart from the convenience, adult body wipes are quick and easy to dispose of. Simply pull out the wipe when needed and discard it immediately after use. No rinsing, washing, or reusing is required.
Prevents Cross- Contamination 
Bathing an adult with limited or restricted mobility can be a struggle. The process can be both cumbersome and challenging when dealing with bedridden or postoperative  patients. At times like these, using towels or tissue paper is also not the most hygienic course of action since the risk of cross-contamination and infection is quite high. Moreover, the caregiver can avoid skin-to-skin contact with the patient while using wipes for cleansing.
Prevents Skin Inflammation & Irritation
Senior adult skin is sensitive, making it prone to skin inflammation or irritation. Using a towel or any other cloth to wipe the area should be avoided because of their rough texture that can cause skin irritation. Most brands produce wipes that are alcohol and paraben-free enriched with Vitamin E. These prove to be hypoallergenic and gentle on the skin. Look for an option carefully.
Bed-bound adults who have to forego showers, body wipes are an excellent and refreshing alternative. It can remove sweat and dirt from the body while also eliminating body odor of any sort. It also moisturizes, dries quickly, and leaves no sticky residue. You can safely use them to clean all the areas of the body. It's a must-have for bedridden & post-operative patients and adults with limited mobility. Adult refreshing body wipes are also used by individuals to keep fresh and to remove dirt, grime or germs while on the go. Choose a wipe that gives you a refreshing fragrance as well.
Adult body cleansing wipes have become a popular choice among grown-ups since the advent of COVID-19. These wipes can be used for multiple purposes - maintaining personal hygiene being the primary usage. With this being said, choosing the right cleansing wipe to meet the purpose is of utmost importance. 
What to look for when shopping for cleansing wipes?
Shopping for cleansing wipes can easily leave one confused when it comes to choosing the right one. There are no hard and fast rules to keep in mind while buying adult body cleansing wipes but one may want to look out for certain features. Always buy wipes that are alcohol & paraben-free, enriched with Vitamin E that will keep your skin moisturised, and are crafted from a hypoallergenic fabric to reduce the change of skin rashes and infections.
Still in doubt? Let us make this easier for you.
Dignity Spongee Body Wipes are clinically approved, alcohol & paraben-free wipes that help maintain the pH balance of the skin. Crafted with Hypoallergenic fabric, these are highly recommended for sensitive skin. These are also enriched with Aloe-Vera and Vitamin E to provide moisture to the skin. 
Wait! There's more. Our Spongee Body Cleansing Wipes are microwavable which is best suited for use in winters since they can be heated up before use. Click here to know more: https://bit.ly/3pr9dUQ 
---
Share this