Cloth Mask v/s 3-Ply Masks - What To Choose?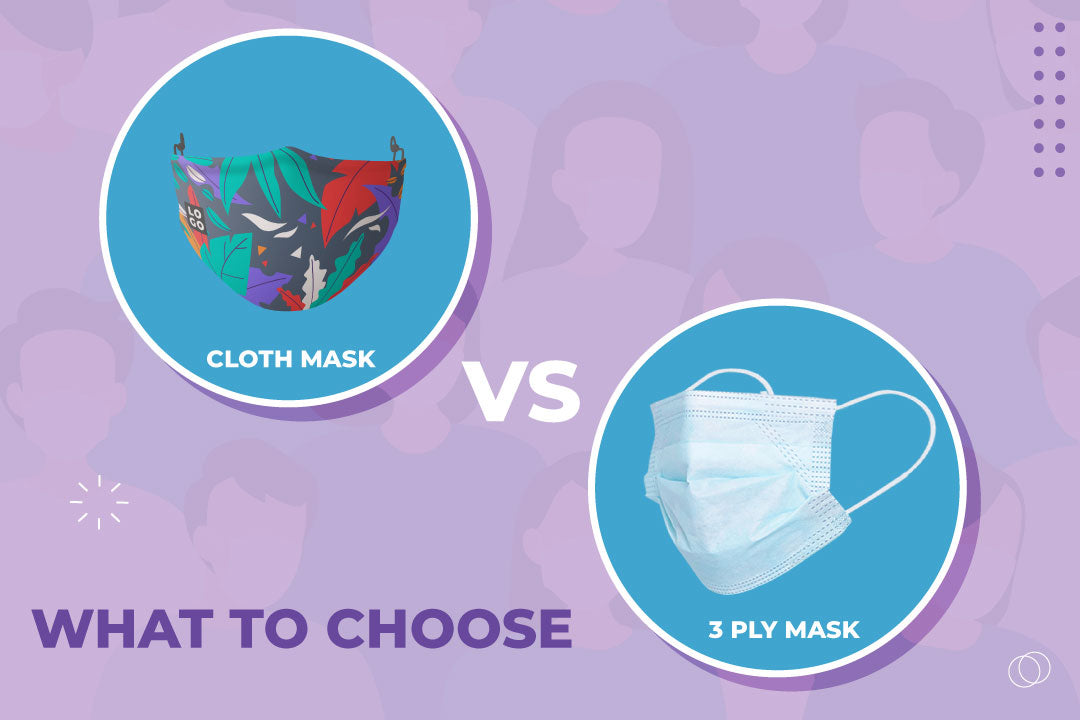 You cannot overlook the importance of wearing a pollution mask when it comes to protecting yourself outside of your house. You may reduce the chance of becoming sick or developing allergies by breathing clean air that is free of contaminants such as germs, pollutants, bacteria, allergens, and more by wearing a 3-ply mask when stepping out of your house.
In India, 3-ply disposable masks are ubiquitous due to their cost effectiveness and a high degree of hygienic standards.
The subject of what sort of mask is best has been raised since health professionals and organizations from all over the world began to emphasize on the use of masks - or "facial coverings" - as one of the greatest strategies to stop the spread of the novel coronavirus.
Although research is ongoing, majority of specialists concur that N95 respirators offer the best defense against Covid-19. However, these masks are primarily designed for specialized usage, are expensive, and are difficult to wear for extended periods of time and that's where 3-ply masks come in. 3-ply face masks are the best alternative to N95, are cheap, and highly effective.
Disposable 3-Ply Face Masks (Surgical Masks)
As the name implies, a 3-ply surgical mask has three layers that provide protection from pollution, virus, and other contaminants. To facilitate breathing of clean air, this is mainly made from non-woven cloth. 
These masks may be worn by anybody and are usually inexpensive. This kind of mask is also quite effective; it can assist in removing around 95% of the contaminants from the air so that it is safe to breathe. These disposable masks are only designed to be used once and are not intended to be recycled.
Initially, surgical face masks were not intended to shield users from the outside elements. The masks were created to shield patients from infection or wound contamination brought on by a surgeon or medical professional. They weren't adopted as safeguards for medical professionals until much later.
Protection levels of 3-ply Dispo Guard Face Mask
A 3-ply mask is a disposable non-woven mask that is very effective in blocking virus-containing sprays, particles, and air.
Dispo Guard 3-ply surgical masks are the most effective against the COVID-19 and can block out viruses & bacteria shed in droplets and aerosols. This mask has three layers, as the name would imply, plus a metal strip that can be adjusted to fit around the nose at the top to give a snug fit. 
When should you use a surgical mask?
The use of a mask itself is not adequate to offer an acceptable degree of protection against COVID-19. One has to follow all protocols and basic hygiene practices issued by the WHO, World Health Organisation.
N95 Respirators
It's crucial to understand what these masks are before anything else. An N95 respirator is "a respiratory protection gear designed to produce a very close face fit and extremely effective filtration of airborne particles," according to the Food and Drug Administration.
A respiratory protection gear called an N95 respirator is made to fit the user's face snugly and to filter airborne particles quite effectively. Be mindful that the borders of the respirator are designed to block off the nose and mouth. A subclass of N95 Filtering Facepiece Respirators (FFRs), sometimes known as N95s, surgical N95 Respirators are frequently utilized in healthcare settings.
Cloth Masks
A non-surgical facial covering that was not evaluated or certified for protection against airborne pathogens and particulate matter is referred to as a "cloth mask" in general. Typical fabrics like cotton or polyester are used to create cloth masks.
The CDC has studied the efficacy of cloth masks and concluded that while any face covering is preferable to none, different types of fiber give varied amounts of filtration and protection against the Covid-19 Virus.
The only thing that is definite about a cotton mask's degree of protection is that it is never as good as a surgical 3-ply mask or an N95 respirator.
Compared to disposable 3-ply surgical masks, cloth masks have a unique benefit in that they are reusable and washable. They can be used as an additional mask or just as a regular face mask for legal compliance. There are several add-ons that can help your fabric mask fit better, including nose wires, straps, and braces.
Buy Face Masks from a Reliable Manufacturer in India
Romsons is one of the top suppliers of  3-ply face masks in India that also offers a wide range of products on a large scale.
Romsons Guard Well 3-ply masks are designed only for single-use purposes. The adjustable tie-on ear loops provide the maximum level of comfort and protection. With a melt-blown filter and an inner and outer layer made of permeable non-woven material, 99 percent of germs can be filtered also known as BFE, Bacteria Filtration Efficiency.
This 3 Ply Face Mask was developed to provide protection when inhaling and aids in filtering out pollutants, chemicals, dust, and microorganisms from the air since they may transmit infections, viruses, etc.
Even when worn for a long time, its three-layered construction offers an optimal comfort and easy ventilation. Melt-blown material is used to create the filter layer. With three layers, filtration is more dependable, cleaner, and bacterial contact is avoided. 
Romsons Dispo guard 3 Ply-Mask has an ultra-soft elastic ear loop to hold the mask in place in addition to being lightweight and comfortable.
To conclude, one can safely say that a medically approved 3-Ply mask or an N95 Respirator is bound to be more full proof in protection against the Corona Virus as compared to their cloth counterpart. Not only they are disposable and hence more hygienic to use, but the level of Bacteria Filtration Efficiency is also much higher than an obsolete cloth mask. A 3-Ply face mask is supposed to fit snugly on the face, preventing the entry of bacteria or viruses from any loose ends as in cloth masks. To know more, log on to www.romsons.in
---
Share this