Dealing With Postnatal Depression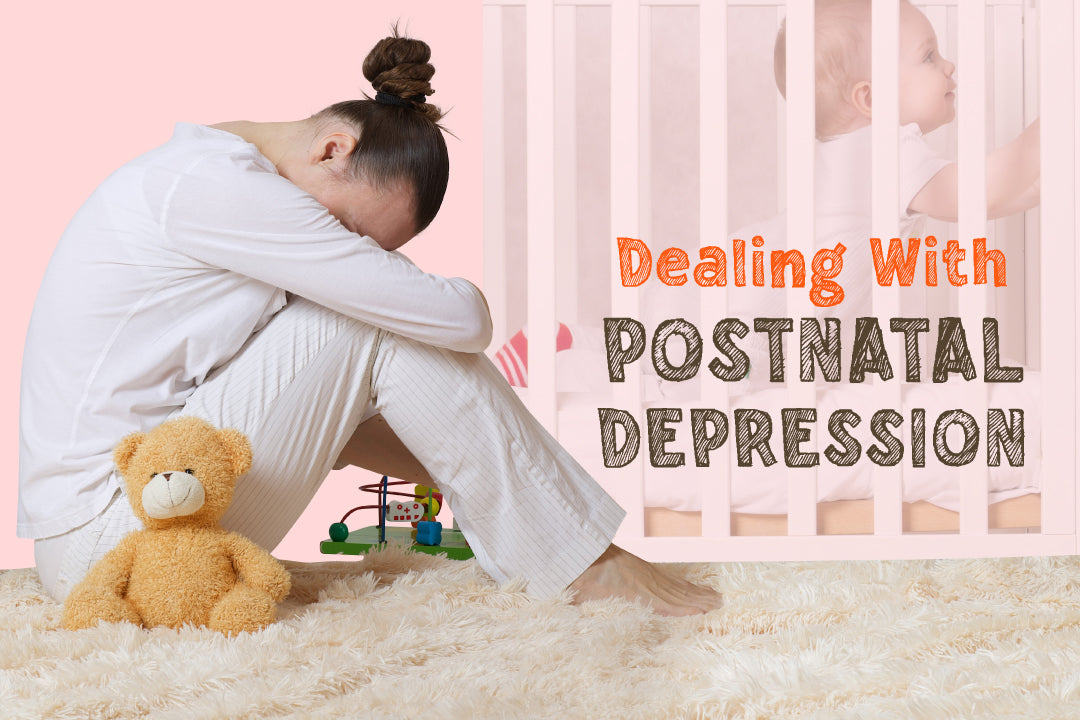 Dealing With Postnatal Depression
Having a baby is a period of countless emotions for a woman, from joy to excitement to fear she experiences everything. It is fairly common to have Baby Blues amongst new moms that can also often lead to PPD (Postpartum Depression). A woman can start experiencing the same within a few weeks of delivery or even after six months. The symptoms may include mood swings, difficulty in making any decisions, difficulty in establishing a bond with your baby, self-doubt, and so on. Though suffering from PPD is not uncommon, many women still feel guilty about not being able to love their own children. 1 out of 7 women can develop Postpartum Depression, and visiting a doctor can definitely help. A doctor will evaluate your situation properly and make some lifestyle changes to help you cope up with the same better.
Bonding With Your Baby: Forming a secure bond with your baby is very important. It can be something so simple as picking them up, taking them on a walk-in their stroller, playing with them, soothing them down when they are crying; all these things will make you develop a caring relationship with your little one. Though PPD can impact the early bonding of a mother and baby, however, your ability to bridge the gap between you and your child is what is required. Another way to make a stronger bond with your baby is to have skin-to-skin contact which can be during a prolonged period of sleep or alertness. This will also make the baby less irritated, soothe them better, and even help in better brain development.
Keep Yourself Healthy: In order to get relief from postpartum depression, you need to take care of yourself. Simple lifestyle choices like adding Omega-3 to your diet, taking regular naps, spending time with your baby will help you cope up better. You can also try meditation to soothe your mind. Take some time out from your regular routine duties and pamper yourself by taking a bubble bath, catching up on your favorite movie, meeting friends, eating your favorite food, etc.
Again Introduce Yourself To Exercise: It has been demonstrated that exercise or physical activities help in combating postpartum depression. Beginning with a gentle form of exercise a few days after a normal delivery is good. But if you have gone through a cesarean then you must ask your doctor about the same. You can start with going on a walk for at least 20-30 minutes a day that will keep you refreshed and active.
Healthy Diet: Only eating healthy food will not work in curing Postpartum Depression, you will have to eat nutritious food as well. Try planning a diet chart, add healthy snacks to stay energized, consult a nutritionist if need. You can think of different food items like cheese, carrots, peanut butter to make your food interesting. Adding vitamins will also help build energy. Keeping sugar stable can help cope with PPD as well. 
Do Not Stay Alone: Blend with people, do not stay alone. After giving birth many women go through mixed feelings but keeping them to themselves is not healthy. You should speak up and share your feelings with experienced mothers around you. You can also join some social groups where you can connect with other people. If you find someone dealing with the same emotional turmoil as you, step forward and give emotional support as it will help in boosting up your self-esteem and sense of independence.
Psychotherapy & Medication: Lastly, medications and therapies always work. After trying all the self-help and lifestyle changes, if you still do not feel good you can visit a specialist. Going for psychotherapy or counseling can be of big help for people suffering from depression. You can discuss your issues with the doctor and learn to respond to a particular situation accordingly. Your doctor may also recommend antidepressants if your symptoms do not improve. Do not forget to inform him/her if you are breastfeeding.
Motherhood is a journey of a lifetime. It is an amazing mix of vivid emotions that make this journey so troublesome yet beautiful at the same time. Experiencing Postpartum depression is natural and not uncommon at all. At this time of your life, however, prioritise your emotional needs above everything else.  
---
Share this