Do You Still Need A Face Mask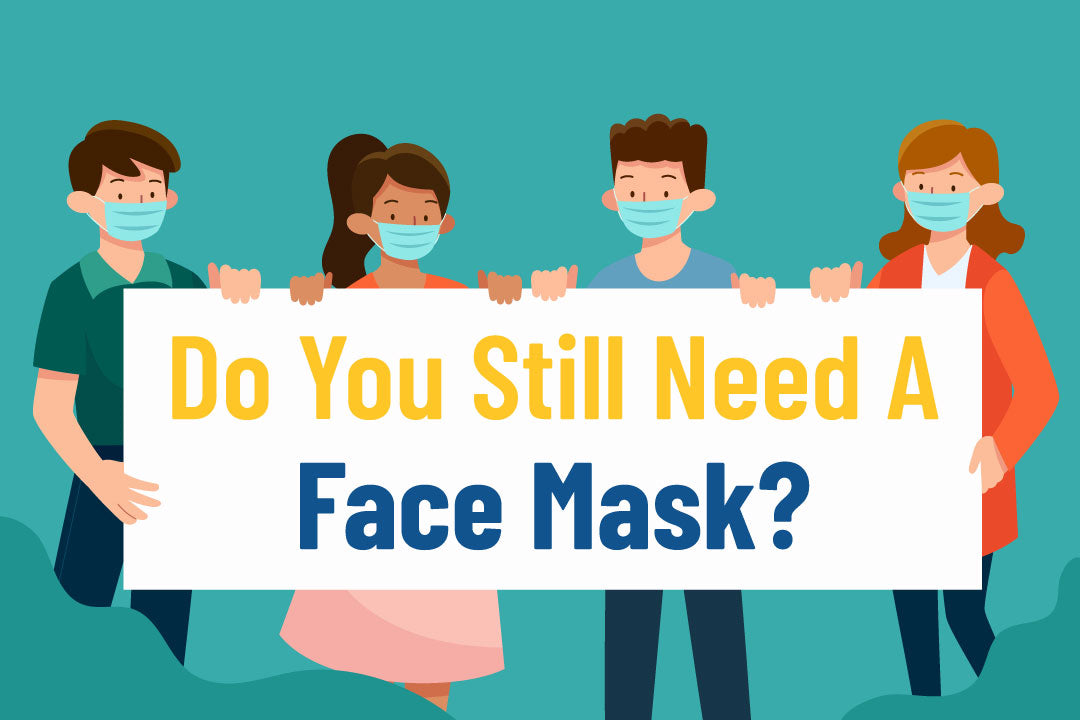 Ever since the country saw a drop in the COVID 19 cases and government relaxation on mask mandates, people are left wondering about the necessity of following a lot of basic precautionary measures.
The most important question among these speculations is, "Do you still need to wear a face mask?"
Our response to this is "YES, YOU DO!"
Getting vaccinated fully does not imply that you can go back to how life was pre-pandemic. While the vaccine does offer a layer of protection to the individual from COVID-19 but to even think about getting back to how life was before, we have to reach some level of herd immunity.
Note, herd immunity, in the context of COVID 19, implies protection from an infectious disease, which is achieved when the majority of the population is immune to it through vaccination. 
Protecting those with Compromised Immunity:
 If you have a weakened immunity or live with someone who does, it is a good idea to keep wearing a mask and maintaining a safe distance from strangers, especially in enclosed spaces with stagnant air where the virus might breed. One helpful way to pose the topic is to ask, "Who in the close circle is the most vulnerable?"
 Masks are also necessary for individuals who have not been vaccinated yet or are spending time with those who have not been vaccinated. COVID-19 puts unvaccinated people at a far increased risk of hospitalization and death. Masks are also required in hospitals, where many people are vulnerable. 
You Can Still be At Risk Post Vaccination: 
Even though vaccines are effective and provide protection against COVID 19, they do not offer 100% protection. It is unlikely to tell who would fall in the 5%-6% of the population that are still at risk post-vaccination. 
Vaccinated People Can Still Be Spreaders:
 Since we have not reached a certain level of herd immunity, it becomes necessary to keep in mind that the vaccinated people can still be carriers and may pose a threat to the non-vaccinated population.
 Now, this makes it necessary for the people to continue wearing masks until the majority get vaccinated, to keep the virus from circulating.
If infection rates are high where you live, as they have been pretty much everywhere during the recent wave, it is advisable to use masks especially in the indoor settings. The choice of whether or not to wear a mask is a personal one.  
Here are a few public places and situations where covering your face with a mask is probably the best option.
Places like supermarkets have their specific norms and rules you ought to follow when visiting. Some marketplaces & stores make it mandatory to wear masks before entering for prevention. They have signs put up in the entryways that read "Mask Compulsory". 
For places where wearing face masks is optional, we suggest you take the space and crowd into consideration. 
Public Transports
Public transports like buses, metro, and railways are probably places we strongly suggest you wear your masks. These closed confined places have strangers traveling day in and out. Controlling and tracking the spread of the virus, thus, becomes difficult.
Airports
      You should wear your face mask while traveling via airplane. There is no mandate requiring airplane passengers to be vaccinated, hence, you may have no idea what the status of those around you is.
A well-fitting, high-quality mask will not only protect you but also those around you. Save yourself from confusion and panic by investing in Romsons' wide range of protective N95 Respirator Masks & 3 Ply Face Masks. 
The Melt-Blown Filter and 99% Bacteria Filtration ensure maximum protection from bacteria and viruses. Crafted from the safest and the softest hypoallergenic fabric, these are very safe on the skin. 
When it comes to wearing face masks hurting ears due to the elastic ear loops is the most common complaint among the masses. Guess what? The ear loops in our face masks are crafted from non-woven fabric that prevents your ears from hurting no matter how long you wear them for. 
Are you aware of what is creating a buzz in the news world currently? The onset of the Fourth Covid Wave is speculated to hit the masses anytime between the end of June - July. There is enough evidence to show that masking up when stepping outside is the way to go about it.
---
Share this