Essential Hygiene Practices For Newborns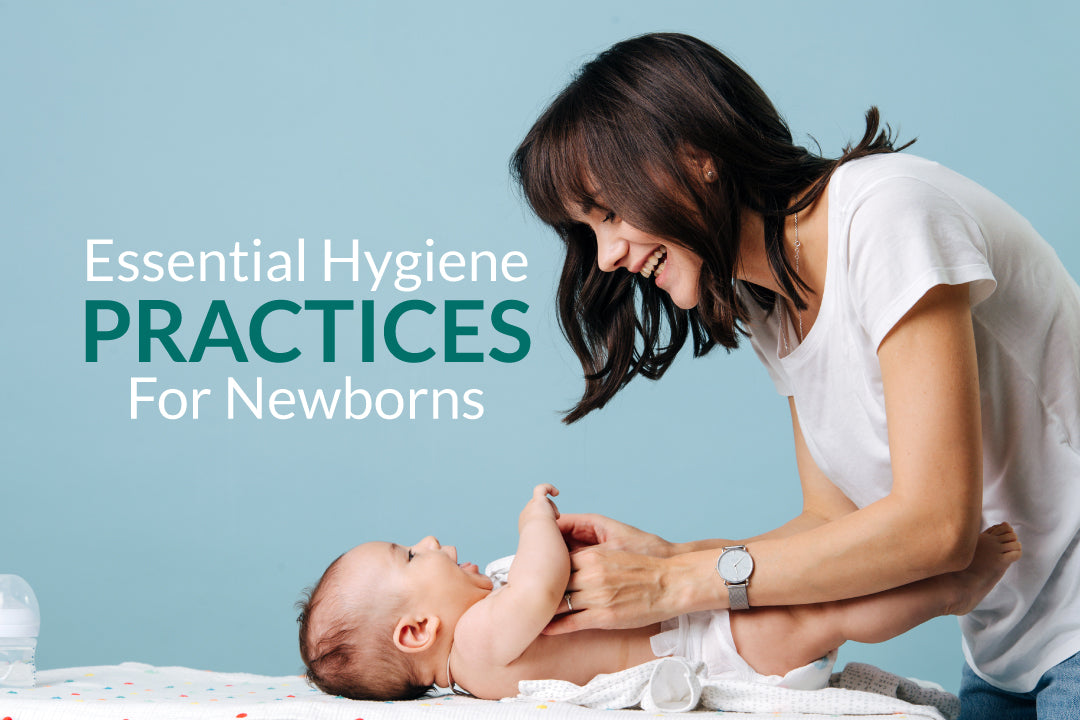 Essential Hygiene Practices For Newborns
A newborn's skin is as innocent and as sensitive as them. Taking proper care of your baby's hygiene helps build immunity that is important for their health and happiness. When it comes to newborns, certain hygiene practices are imperative for your little one's well-being.
Maintain Personal Hygiene: While taking care of your baby, one should first and foremost take the necessary steps to maintain personal hygiene. Washing or sanitizing your hands regularly is very important. Keeping your nails trimmed reduces the chance of carrying bacteria or even scratching your baby. The clothes you wear with your baby should be soft and washed regularly.
Follow A Bathing Schedule: It is advisable not to bathe your baby in the first week of birth or until the umbilical cord falls off. You can use a mild, hypoallergenic wipe or a soft washcloth with warm water to clean your baby. Post that, bathing a newborn twice a week is more than enough. Bathing them more than this can dry out his/her skin.
Change The Diapers Regularly: It is highly recommended to change your baby's diaper every 2 to 4 hours. Keeping the baby in a soiled diaper can increase the chances of catching infections or causing rashes. While changing your baby into a fresh diaper, always clean the diaper area with an alcohol-free wipe and make sure that the area is dry. One can use a Diaper rash cream sometimes, but only when necessary.
Use Disposable Baby Mats: Mattress protectors or an underpad are safe and hygienic for your baby. Their high absorption capacity helps soak fluids rapidly, keeping your baby dry and comfy while protecting your linens and mattresses. Choose a baby mat that can easily stick to multiple surfaces such as cribs, strollers, beds, and so on. These would also effectively protect your baby from the risk of catching any infections from unknown surfaces.
Wash Their Cloth Separately: Always wash your little one's clothes separately from the rest of the lot in the house. Use a mild detergent to wash clothes to avoid any infection or rashes.
Proper Oral Hygiene: Though babies do not have teeth that would have germ-formation chances, cleaning your baby's gums regularly is essential. It does not allow the growth of bacteria and keeps their mouth healthy. There are incredibly soft finger toothbrushes available for babies to help keep their gums clean and healthy.
Nail Care: It is observed that baby's nails grow very fast, and it is important to trim their nails regularly to avoid any scratching. Therefore, special attention is required by every parent to trim the nails regularly, and the best time to do so is when your baby is fast asleep. Make sure you cut the nails safely without hurting your baby. Also, avoid cutting them too short as it can cause infection around the tip.
Managing Cold In Newborns: A blocked nose can inhibit your baby's sleep. Moms are increasingly using bulb syringes or nasal aspirators to suck out mucus from their baby's nose through the suction technique. These nasal aspirators create a vacuum in the nose and help pull out the mucus with no strain. Consult your doctor to learn about how to use them.
Clean The Eyes: Taking proper care of your newborn's eyes is very necessary. You should use soft cotton balls and lukewarm water for cleaning the corner of the eyes. You need to clean the outer layer softly. 
Practicing these few steps to maintain the personal hygiene of babies can help keep them safe and healthy. We hope these tips are helpful and make you spend worry-free time with your little one.
---
Share this