How Do Spirometers Help In Increasing The Lung Capacity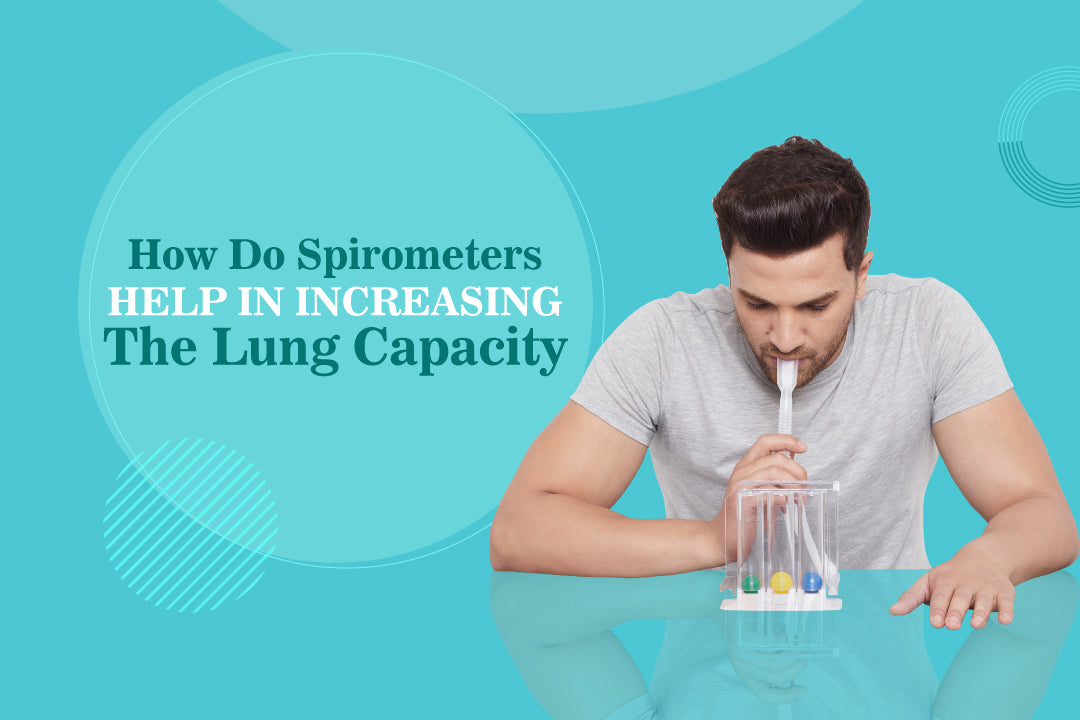 What Is A Spirometer?
A spirometer is a device used to measure the amount of air you inhale and exhale, and also how quickly you exhale it. It helps you check your lung capacities and keeps them active by making you breathe more fully and deeply. Lungs are one of the most sensitive organs of your body and can become even more sensitive after a prolonged illness or a medical procedure. This device will help your lungs recover and keep them happy and healthy! 
Spirometers are regularly used at clinics or hospitals after medical procedures or prolonged illnesses involving bed rest. Your physician or specialist may give you a bring-home spirometer after a medical procedure. He/She can set an objective of breath volume for you to hit on a daily basis. This will further help in improving your health and increasing your lung capacity.
Who Needs To Use A Spirometer? 
A spirometer is given to individuals who've had a medical procedure or surgery, or those with any kind of lung illness. It is also given to people suffering from conditions like COPD that cause obstructive airflows from the lungs. Nowadays, due to the impact of Covid-19 on the lungs, doctors are increasingly prescribing spirometers to Covid patients as well. Spirometers are also recommended to people at a greater risk of developing airway or breathing difficulties.
Breathing gradually with a spirometer permits your lungs to inflate completely. These breaths help break liquid in the lungs that can cause pneumonia in case it isn't cleared. 
Here's Are Some More Reasons Why One Should Use A Spirometer:
After A Medical Procedure: A spirometer can keep the lungs active even during bed rest. This may reduce the danger of developing complexities like atelectasis, pneumonia, bronchospasms, and respiratory problems. 
Pneumonia: Spirometry or a spirometer is ordinarily used to separate liquid that develops in the lungs in individuals suffering from pneumonia. 
COPD, Chronic Obstructive Pulmonary Disease: It is a chronic respiratory disease that causes obstructive airflows from the lungs. COPD is mainly caused due to smoking, and though quitting smoking is not a cure for it, but using a spirometer regularly can help manage the symptoms better.
How To Use A Spirometer:
It might appear troublesome at first to use your spirometer, however, following these simple steps would help you assemble it in no time.
To use the spirometer, sit upright in a seat or the edge of your bed. 

If you have undergone surgery or if there's an incision, put a pillow on the incision to reduce the pain.

Hold the spirometer upstanding with two hands. Put the mouthpiece into your mouth and firmly seal your lips around it. 

Breath in profoundly so that the balls resting beneath the marker should start moving upwards. 

At the point when you've arrived at your full breath limit, take out the mouthpiece and pause your breathing for no less than three seconds.

Breathe out regularly. Take rest for a short span and repeat the process 10 to 12 times every hour when you're awake or as directed by your physician.
Benefits Of Using a Respirometer
Using a spirometer helps in strengthening the lungs. A large number of the studies have shown the potential advantages of spirometer where it was used in a planned way. Here are the few benefits of using it regularly:
Helps in the proper functioning of the lungs
Decreases the chances of catching lung infections
Keeps the lungs strong and active during extended rest
Reduces the chance of building up mucus in the lungs
Risk And Complications 
There are no potential risks as such with the use of a standard spirometer. However, you should stop it if you feel dizzy.
There are rare reports of pneumothorax that have been related to exceptionally forceful spirometer use. If you feel any of the events, you should immediately stop using the spirometer and give your lungs the required rest.
If you've gone through any medical procedure, the pressure of forceful breathing may affect your eyes. 
If you have an imploded lung, avoid using the spirometer.
Also avoid it if you have an aneurysm (swelling vein) in the chest, abdomen, or cerebrum.
To shop from our range of Spirometer, Click here: https://bit.ly/38tPD0Z
---
Share this