How Safe & Convenient Are Wet Wipes To Use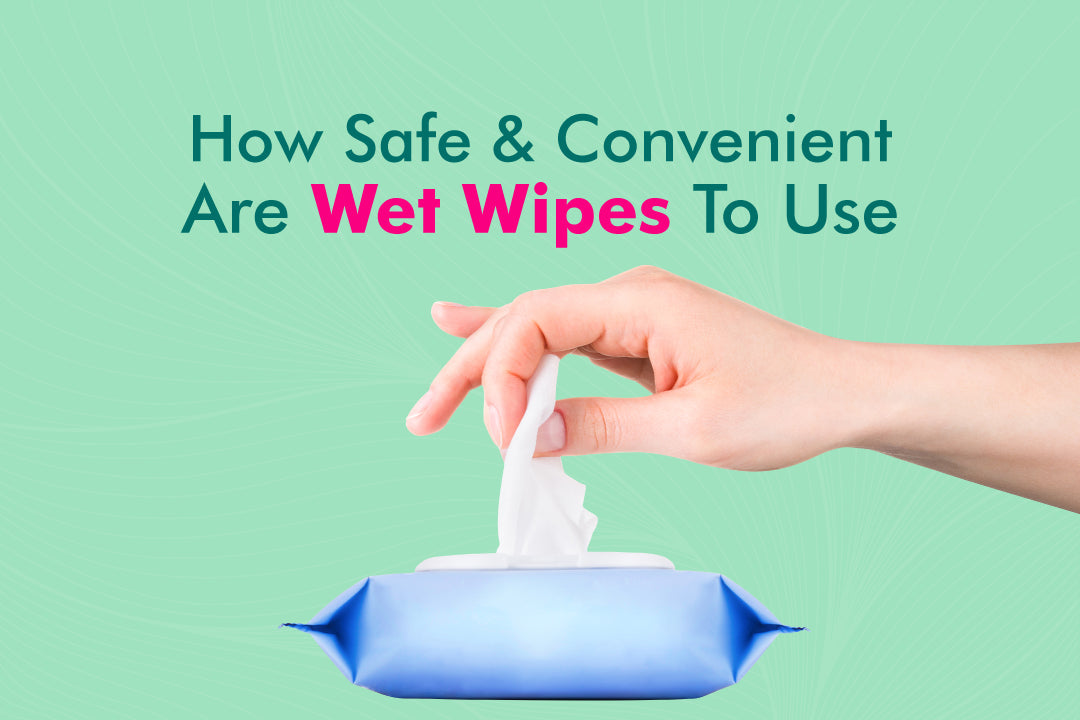 How Safe & Convenient Are Wet Wipes To Use
Wet wipes or wet towels are pre-moistened pieces of fabric used for cleaning predominantly babies and nowadays adults as well. With the growing popularity of wet wipes, especially amongst new parents, these are one of the easiest ways to maintain baby hygiene at home or while on the go.
Wet Wipes are usually crafted from non-woven fabrics or 100% Biodegradable Bamboo fabrics. Wipes have become a perfect match for our fast-paced life as they come in handy and save a lot of time and inconvenience. Apart from babies, wet wipes are increasingly being used for a variety of purposes such as maintaining adult hygiene, disinfecting surfaces, sanitizing hands, make-up removal, and so on.
Uses of Wet Wipes
Nappy Change: Wet wipes are used by mothers to clean the baby during nappy change or to wipe their hands and feet at any time.
Adult Hygiene: Adult body wipes are used on the elderly, usually suffering from mobility impairment or post-operative use. These are highly effective in a gentle yet thorough cleansing of the body while moisturizing the skin, leaving a refreshing fragrance. Adult Wet Wipes are largely being used in hospitals, nursing homes, and adult care centers apart from homes to maintain hygiene. Available in varying sizes and fragrances, wipes are also being used by adults on the move for refreshing and cleansing their skin.
Household Cleaning: Wet Wipes are increasingly being used at home as well as outdoors to clean and disinfect a variety of surfaces depending on their formulation.
Personal Hygiene: Wet wipes are used to maintain personal hygiene as well. Depending on the formulation, some wet wipes are being used to sanitise hands and feet, while others are used as make-up removers.
Benefits of Using Wet Wipes
Convenient to Use: Wet wipes come in very handy at home or while on the go. These help in maintaining hygiene throughout the day and are suitable for frequent use.
pH Balanced: Most wet wipes help maintain the pH balance of the skin. Crafted from hypoallergenic fabrics, these protect the skin from any infections or rashes.
Nourishing: Most wet wipes are enriched with a moisturising lotion that provides nourishment to the skin, leaving it soft and supple. These ensure a healthy skin habit for the baby as well as adults.
Safe For Sensitive Skin: Some wet wipes are crafted from hypoallergenic non-woven or bamboo fabric, making them highly safe for sensitive skin. Their 100% Alcohol and Paraben-Free formulation guarantee no skin allergies or reactions.
Is it Safe to Use Wet Wipes?
Contrary to popular belief that wet wipes are harmful to the skin, especially a baby's sensitive skin, these are incredibly safe and convenient to use. Licensed wet wipes gently cleanse the skin and provide nourishment and moisture needed with repeated cleansing.
Many mothers prefer using a wet washcloth over their baby's skin to wet wipes. They don't realize that water can sometimes negatively impact the skin and fail to provide the moisture needed by the baby's skin. Repeated use of damp cloth can also create too much friction on their sensitive skin and cause infections.
Many wet wipes are crafted from hypoallergenic fabrics, making them effective in preventing the skin from getting any rashes or infections that might occur using a damp cloth. One should opt for wipes that are 100% free from alcohol, paraben, or any potential irritating preservative that can harm the skin. Once that is taken care of, wet wipes can prove to effectively cleanse the skin and make life easier. 
Adult wipes are also gaining popularity amongst doctors and paramedical personnel, and the general public. These are perfect for maintaining hygiene for bedridden, post-operative use, or for generally refreshing the skin. For adults using diapers, cleaning the diaper area thoroughly with a wet wipe before changing is highly advised by the doctors. On the other hand, wet wipes are increasingly being used by people to wipe off sweat and refresh the skin.
To conclude, one can say that wet wipes are highly convenient and safe to be used on babies as well as adults. However, while choosing a wipe, go for a brand that offers 100% alcohol and paraben-free wipes to minimise the risk of developing any rashes or skin allergies. For extremely sensitive skin, one can go for water wipes as well. To discover more, click on https://www.romsons.in/baby-care/baby-wipes.html
---
Share this