Lumbar Sacral Belts In Relieving Back Pains - Uses, Types and Benefits.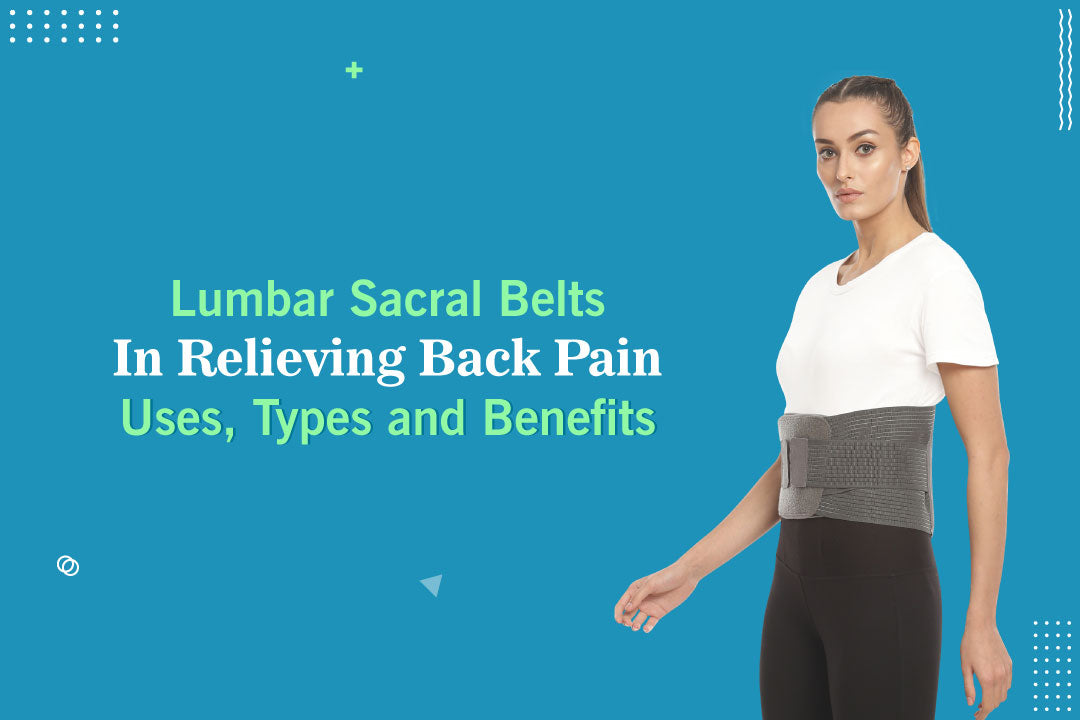 If you are struggling with an incessant lower back pain or sitting in the right posture is difficult then you should definitely invest a few minutes reading this blog. Keeping present working scenarios in mind, all you need to know about the right posture is to keep your spine straight comfortably without putting any pressure on the abdomen. But being this much attentive is quite a task and people forget about this at work.
A Lumbo Sacral Belt is the perfect solution for maintaining a good posture. Lumbar Sacral Belts are a solution used by many people suffering from lower back pain, recovering from an injury, or for just correcting their posture. It is a broad structured belt with a Flexi back splinting which provides optimum support and comfort to the wearer for longer. Both sides of the belt usually have a double-pull mechanism with velcro, ensuring a secure fit and immobilisation.
How To Wear A Lumbar Belt
Put the padded splint area on your lower back, stretch both sides of the straps, and fix them to the velcro patch given on the front. Adjust the fitting of the belt to suit your body needs. Keep in mind that while wrapping a lumbo sacral belt, the back panel has to be in the centre of your vertebral column.
Benefits Of Lumbo Sacral Belt
Due to its design and structure, a Lumbar Sacral Belt helps relieve lumbar spondylitis, lower backache, postural deformities, or any regular pain in the lumbar spine. It may also be used in stabilising vertebral injury. Due to its amazing fitting and aesthetically pleasing design, a lumbar belt can also be worn daily as prophylactic aid. You however need to seek guidance of an orthopaedic or physiotherapist before wearing this belt. Chronic lower back pain, long working hours or travelling can cause discomfort or a bad posture. A Lumbo Sacral Belt, thus comes in handy for a variety of purposes.
These back support belts are also sometimes used for post-operative rehabilitation. Lumbo Sacral Belt offers advanced design and technically correct materials to provide the patient effective support and immobilisation on one hand and excellent aesthetics and comfort on the other. Porous material used in many lumbar sacral belts ensures proper ventilation, making you feel less stuffy.
Types of Lumbar Sacral Belt
Generally, lumbar sacral belts are categorised as flexible, semi-rigid, and rigid; it depends on the intensity of pain from moderate to severe that your doctor could suggest you from any of these three:
Flexible Lumbar Sacral Belt:
A flexible lumbar sacral belt is usually made up of cotton and rubber and can be used for treating moderate to mild pain. It provides very light pressure on the torso to adjust the posture while taking off weight from your spinal column. It not only comforts the spine but also takes off the pressure from any injured muscles, joints, discs. Providing a limited range of motion, it allows you minimal bending and twisting. Compression also reduces the motion of a loose or weakened joint providing limited mobility needed for healing. A Flexible Lumbar Sacral Belt also relaxes the muscles by providing warmth.
Rigid Or Semi-Rigid Lumbo Sacral Belt-
These provide sufficient pressure to the torso by shifting the weight from spine to the abdomen. These belts are endowed with heavy back splinting and a padded foam to guarantee you maximum comfort. The idea is to provide maximum immobilisation required to fix a fracture or heal any damaged muscle or disc. These belts also help heal muscles by providing optimum warmth and support.
Consult your doctor before choosing the belt as per the intensity of your injury or problem. Lumbar belts are largely being used as a prophylactic aid as well. Athletes use these back support belts especially while doing heavy weight training to prevent any kind of back injuries. Lumbar Sacral belts are also suggested temporarily by the physicians to help fix the posture. Thanks to their ergonomic and aesthetically pleasing design, these can be used by anyone.
Romsons specialises in Lumbar Sacral Belts. Flexi Back Splinting provides maximum back support and perfect posture enhancing the comfort of the wearer. Their Double Pull Mechanism provides extra compression with double adjustable straps that hold the belt in place, ensuring strong fastening for a more secure fitting and better immobilisation. Extra Porous Material of Romsons Lumbar Sacral Belts ensure proper ventilation and maximum comfort to the user. Aesthetically pleasing, Romsons Lumbo Sacral Belt can be worn daily or as a prophylactic aid. These are available in sizes ranging from Small, Medium, Large, Extra Large and XXL to suit your individual needs and body types.
To know more, click on the link given below.
---
Share this