Nebulizers: All You Need To Know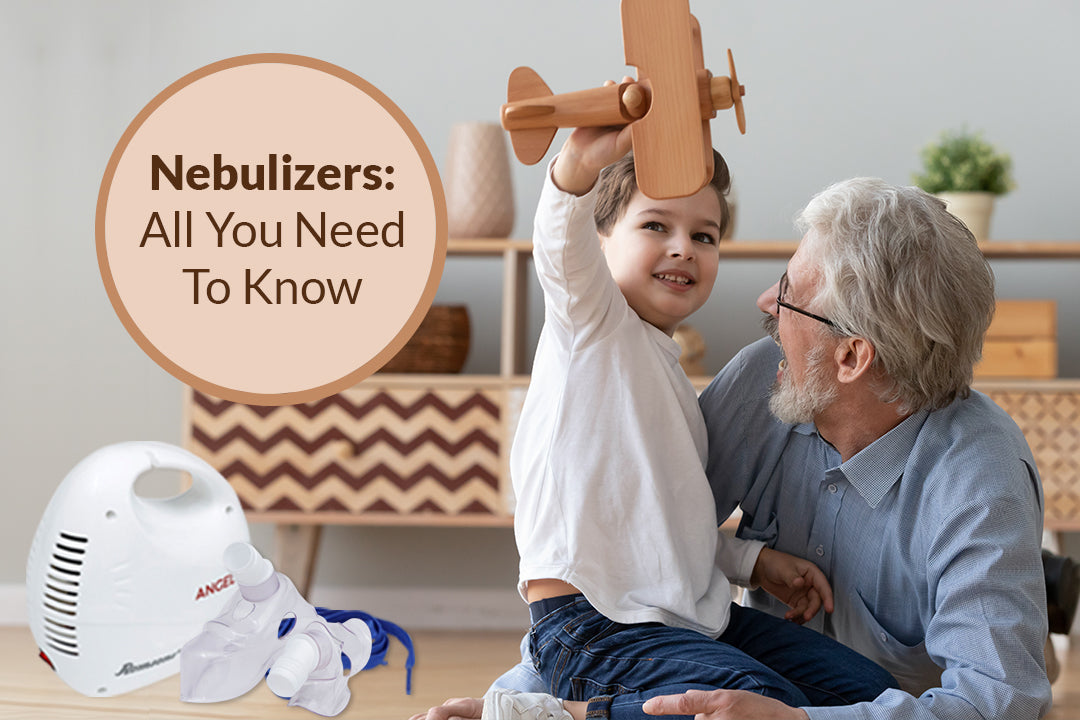 Nebulizers: All You Need To Know
What is a Nebulizer?
Nebulizer is an electrical device that converts liquid medicine into mist that can be inhaled directly into the lungs. Nebulizers are most commonly used for the treatment of bronchitis, asthma, COPD, and other respiratory diseases. 
Contrary to a Metered-dose inhaler (MDI) that requires a forceful inhalation technique to take the medicine deep within the lungs, nebulizers tend to be less cumbersome to use as they do not require much of an effort. Nebulizers are ideal for every age group, be it a child, adult, or senior citizen.
Uses Of Nebulizers: 
Nebulizers are ideal for providing treatment to someone facing breathing difficulty. These also work well for people suffering from shortness of breath, cough, swelling in the airway, etc. Nebulizers can be used if a person has:
COPD (Chronic Obstructive Pulmonary Disease), asthma, or any other chronic respiratory disease.
Allergic reaction due to a medicine.
Any type of infection in the lungs that can be fungal, bacterial, or viral. Pneumonia is also a common lung infection that can be treated with a nebulizer to loosen the mucus in the lungs and help one breathe better. 
Any kind of seasonal allergies.
Using a nebulizer is as easy as breathing. These help in administering a variety of medicines simultaneously to provide instant relief from inflammation, and thereby help the person breathe better. These medications include:
Bronchodilators: This treatment helps in opening the air passages and provides proper inhalation.
Corticosteroids

: This treatment helps fight inflammation.  
Advantages Of Using a Nebulizer
The greatest benefit of using a Nebulizer is that it is ideal for every age group. Using a nebulizer is as easy as breathing and works well especially with people having limited mobility. All one has to do is wear a mask and breathe normally.
Nebulizers are easy to use, and allow a variety of medicines to be administered simultaneously to provide immediate relief.
These are perfect for giving higher doses of medicines as no extraordinary breathing technique is required.
Types Of Nebulizers
There are mainly three types of Nebulizers:
Jet Nebulizers: These are the oldest type of nebulizers and work by compressing the air & converting it into aerosols. These nebulizers do not work with COPD medicines & are quite loud. Jet nebulizers are available in tabletop and handheld models & can be hard to clean.
Ultrasonic Nebulizers: These are the revised versions of Jet Nebulizers & are available only in the handheld models. These nebulizers convert vapor into mist with the help of Ultrasonic Vibrations. Ultrasonic nebulizers can be used for certain COPD medications and are travel-friendly.
Vibrating Mesh Nebulizers: Vibrating Mesh nebulizers are handy and portable and are not noisy at all. As the name suggests, these nebulizers have a very fine mesh that allows the liquid to pass through the mesh to form an aerosol. 
How To Use A Nebulizer?
Using a nebulizer is not that tricky but before starting, do check for the following elements:
Nebulizer Machine (Air Compressor)

Mouthpiece or Mask

Nebulizer Cup

Medicine

Medicine Compressing Tube
Steps For Operating A Nebulizer:
Wash Your Hands:

 

Make sure your hands are absolutely clean and dry before using a nebulizer. 
Assemble The Machine:

 

Check if the air filter is clean. Rinse it with cold water & dry it completely. 

Plug-In The Air Compressor:

 

Put the air compressor on a flat surface and plug it in into a grounded electrical outlet.

Prepare The Medicine:

 For nebulization, mix the medicines in the amounts prescribed by the doctor. You can either mix them beforehand, and then pour it into the cup, or mix the medicines directly into the cup with the help of a syringe or dropper.

Connect The Mask:

 

Once the medicine mixing is done, close the cup and connect it with the mask or mouthpiece. Now, connect the tube to the aerosol compressor and turn it on.

Inhale:

 

Sit up straight on a chair & wear the mask. Make sure you are comfortable. Start with taking slow, deep breaths, and before exhaling, hold your breath for 2-3 seconds, allowing the medicine to settle down your air passages.
In case the patient feels uneasy or jittery, pause the treatment for a few minutes before starting again. Consult a physician in case the problem persists or escalates. 
Precautions To Take While Using A Nebulizer:
Clean Regularly: Washing the nebulizer is necessary after each use. Wash the parts using mild dish soap & lukewarm water. Once washed, dry the parts properly; do not use them wet. Ensure all pieces are dry before putting them away, preferably on a paper towel.
Disinfect Your Nebulizer: This activity must be done every third day of using the nebulizer. For disinfecting the nebulizer, you can use water and vinegar solution. For making the solution, mix ½ cup of vinegar and water & soak the equipment for 20-25 minutes, except the mask. Once done, wash the equipment thoroughly with warm water & dry off properly before storing it away, preferably on a paper towel.
Replace The Mask Regularly: Since a nebulizer is a device that administers medicines directly to the lungs, one needs to make sure that the mask is replaced regularly in order to avoid any kind of bacterial or fungal infection. Do not use the same mask on multiple people.
To look through our range of nebulizers, click here: https://bit.ly/3xKv2kj
---
Share this