Open-Style and Pull-Up Diapers - Things To Know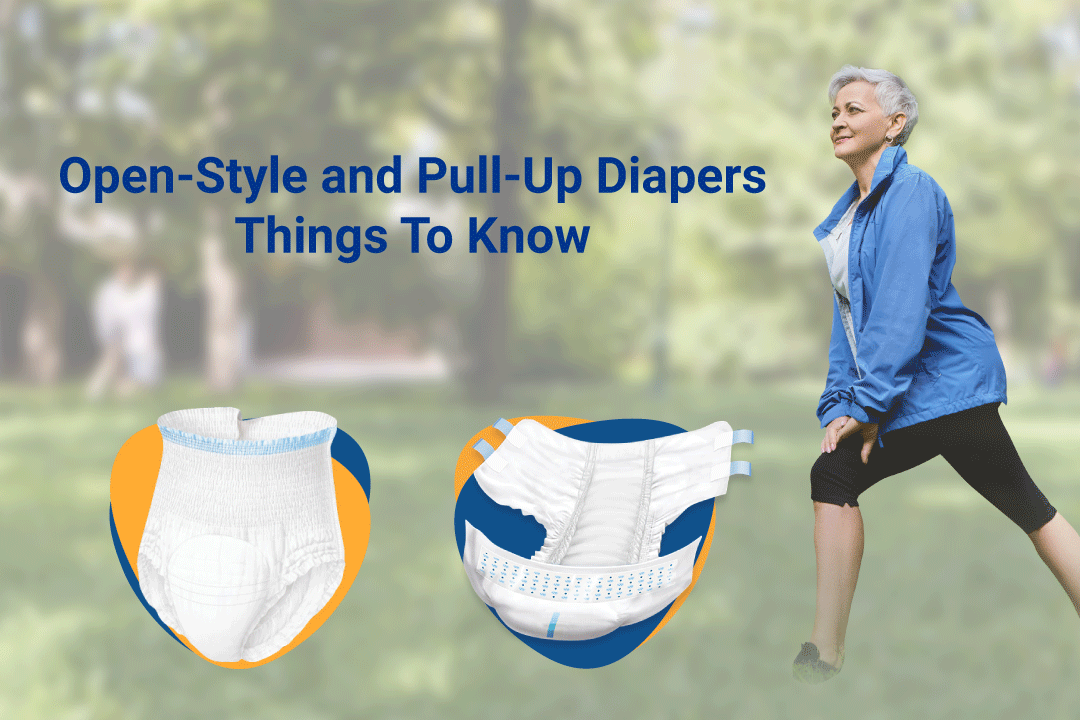 Imagine how troubling it is when you feel a sudden urge to pee while traveling in a public transport and you cannot. However, on a regular day, people suffering from incontinence may have to deal with situations much worse. Incontinence is an involuntary loss of bladder control resulting in urine leakage. In simple terms, having a sudden, intense urge to pee and not having any control over it that results in bladder leaks is known as incontinence.
The concept of adult diapers is decades old. However, their awareness and usage have recently started to grow in India. With advancing age, any man or woman is likely to experience a leaky bladder syndrome. However, though often related to old age, incontinence is not necessarily an inevitable sign of aging. It could also be a result of an accident, a neurological disorder, hysterectomy or delivery complications in women, etc. If incontinence is affecting your daily life then adult diapers are the solution. 
Who Needs to Wear Adult Diapers?
People with underlying medical conditions that make them experience bladder or bowel incontinence.

Post-operative or bedridden patients.

People with limited mobility.

People with cognitive disorders, such as dementia may be unable to recognize their need to reach a toilet on time.

Senior citizens who have trouble accessing toilets multiple times at night.

Adults with incontinence traveling long distances.

 
Types of Adult Diapers
Adult diapers differ in absorption capacities, sizes, and styles. These diapers can be worn by both men and women since they are usually unisex. Two widely popular types of adult diapers are:
Adult Open-Style Diapers - These are the most commonly used adult diapers. As the name suggests, an open-style diaper has an open silhouette with refastenable tapes that can be adjusted to give a custom-fit experience to the user.
Adult Pull-Up Diapers - As the name suggests, these are pant-style diapers that are meant to be worn as underpants. They come with elastic waistbands that are easy to wear and take off.
Difference Between Adult Open-Style Diapers & Pull-Up Diapers
As clearly known, both open-style & pull-style diapers may hardly vary in size, style or  features, some of the noticeable differences are mentioned below.
Open-Style Diapers are open from the sides and come with refastenable tapes, hence earning the name open-style. On the other hand, Pull-Up Diapers come with an elastic waistband and need to be worn as underpants.

The adjustable tapes ensure a snug fit experience since the diaper can be adjusted according to the need of the wearer. Pull-Up diapers are worn like underwear. They are extremely easy to wear and take off. 

Open-style diapers are best suited for semi-mobile, and immobile individuals. While Pull-up diapers are ideal for mobile, semi-mobile people.
Dignity Adult Diapers, from the house of Romsons, is the best adult diaper brand in India. The company specializes in both, the open-style as well as the pant-style diapers. While choosing between an open-style and a pull-up diaper, one needs to make an informed decision on the basis of an individual's need. Though the absorption capacities and size may vary very marginally, one needs to consider the mobility level of an individual and their own preference between the two. Apart from the people suffering from incontinence, sometimes their caretakers may also have the preference for one. For an immobile person, they may usually opt for an open-style diaper. While a mobile or semi-mobile person may find it easier to pull-up the diaper like an underpant and carry on with their day.
Dignity Magna is a disposable open-style adult diaper with a super-absorbent core that absorbs moisture quickly. It provides leakage protection for up to 8-10 hours. Dignity Premium is available as both open-style and pull-up diapers with an absorption capacity of up to 10-12 hours. Dignity Overnight provides leakage protection for up to 12-16 hours, and is again available in both open-style and pant-style diapers (pull-ups). Both Dignity Premium and Overnight Diapers have a super absorbent core and ADL (Acquisition Distribution Layer) that helps in rapid fluid absorption and dispersion, making the user feel comfortable and dry. 
Adult diapers are a great way for tackling incontinence or a leaky bladder situation. Usually, it gets embarrassing for people to be upfront about their situation and seek help. Hence, it is important to raise awareness around us about the use of adult diapers so that our friends and family suffering from this can lead a more comfortable and independent  life. It's time to start addressing the problem of incontinence openly and not consider it a taboo anymore.
For more information click on, https://bit.ly/3tJH8ef
---
Share this