Packing Your Hospital Bag? Here's a Quick Last-Minute Check.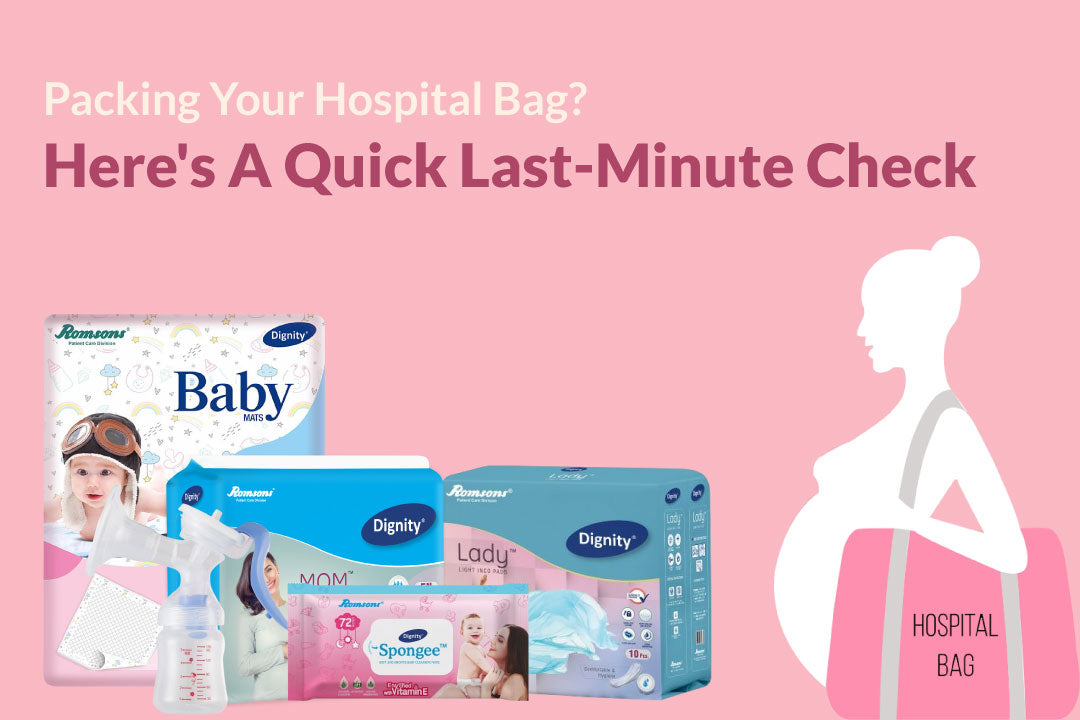 Pregnancy is an exciting time filled with anticipation and anxiousness. For women who are 34 weeks along, virtually every physical feeling can elicit a panicked 'this is it!!!' reaction. Feeling jittery and anxious is fairly common. It happens to the best of us. Even when you have been preparing your maternity bag ahead of time, there is always a chance you may miss out on a few last-minute items during those frantic hours.
When to pack in your maternity bag?
Only about 5% of the babies are born on the exact date they are due. Most pregnancies last up to 40-41 weeks and in some cases, the baby might also arrive before the due date. To avoid any last-minute rush, it is advisable to be prepared in advance. You should have your maternity bag ready by the 34th week of pregnancy to avoid getting caught off-guard.
Are you all set?
Hospitals, generally, provide you with basic amenities, one will need to take care of themselves and the baby once it has arrived. But where is the comfort in bare bone essentials? It is necessary to pack your maternity bag with all the essentials that are required to make you and the newborn feel comfortable and safe. Here's a quick last-minute checklist to go through before you run out of time.
Maternity Clothes- The most essential item in your checklist has to be the clothes that you will require to wear pre and post-delivery. Your hospital bag should have a soft dressing gown so you can comfortably move around during and post-labor. Nursing bras and tanks specially designed for new mothers are a blessing if you plan on breastfeeding the baby post-delivery. Do not forget to pack a few pairs of socks or slipper socks and a pair of flip-flops. 
Maternity Pads- 

 

One thing that one hardly talks about is the heavy postnatal bleeding. Hospitals hook you up with pads generally but for your comfort, it is recommended you go with your preferred brand. Sanitary pads are not enough to manage post-natal bleeding, and hence the need for a highly absorbent, hypoallergenic maternity pad. In case you forgot to pack, it's not too late. Click here 

https://bit.ly/3GSOZsP

 to stock up on 'Doctor Trusted' Dignity Mom Maternity Pads.

Breast Pump- 

 

Keeping breast pumps handy can be a blessing especially during this time. For mothers who prefer to store the let-down when the baby is sleeping, or simply use a breast pump sometimes to feed instead of breastfeeding, these are an absolute essential. Also in the case of premature babies, moms should use breast pumps to store milk for their newborns. Haste purchases often lead to waste but you have nothing to worry about. All you gotta do is click 

https://bit.ly/3LDWzLp

 to order Romsons Manual Breast Pump.

Toiletries- 

 

Toiletries such as toothbrush, toothpaste, mouthwash, bathing soap, etc are usually items that people often forget to pack in their hospital/maternity bags. It is mainly so because they are everyday items that you tend to leave for the last. Hence, they should be on the top of your "quick last-minute checklist".

Diapers & Baby Wipes-

 

We know you want the best for your baby. Hence, do not forget to pack the diapers you have been stocking up for weeks. Similarly, baby wipes are an absolute must-have for your baby's hygiene and safety. Forgot to buy those? Don't panic, we've got you covered. Romsons range of baby wipes are 100% alcohol and paraben-free. Crafted from a hypoallergenic fabric that is safe for the sensitive skin, our Baby Wipes are every mom's first choice. Simply visit 

https://bit.ly/3uUx0Qh

 and get it delivered right at your doorstep.

Bed Protector Mats and Baby Blanket-

 

If you are concerned about your baby's comfort and safety, make sure to pack a soft blanket for your baby to sleep in. Tying your bundle of joy in a diaper all the time is not easy, we suggest you alternate it with cloth nappies. Worried about your baby dirtying the linen? Use Dignity Baby Mats that are super absorbent, bed protecting mats. Click here 

https://bit.ly/3GRvf8L

 to get your hands on the best baby changing mats for your little one.

Miscellaneous Items-

 

Last but not least, don't forget your mobile charger, lotion, hand cream, lip balm, and essential oils. These are comfort items you must not leave behind. Pack your glasses and contact lenses if you wear them.

 Going Home Outfit -

 

When it's time to go home make sure you have packed an outfit both for yourself and the baby. It is probably the last thing you will end up using from the list. So make sure you have fun choosing the outfit you and the baby will wear while leaving the hospital. P.S. This is the outfit you'd want to do your photoshoot in to keep the memory.
For all our new parents-to-be, stop fretting over things you may have missed from your checklist because we have got you covered. Pay us a visit at https://bit.ly/3GXbIUu and get all your requirements delivered wherever you are. Happy Parenting! 
---
Share this