Poochie 100% Biodegradable Baby Wipes. All You Need To Know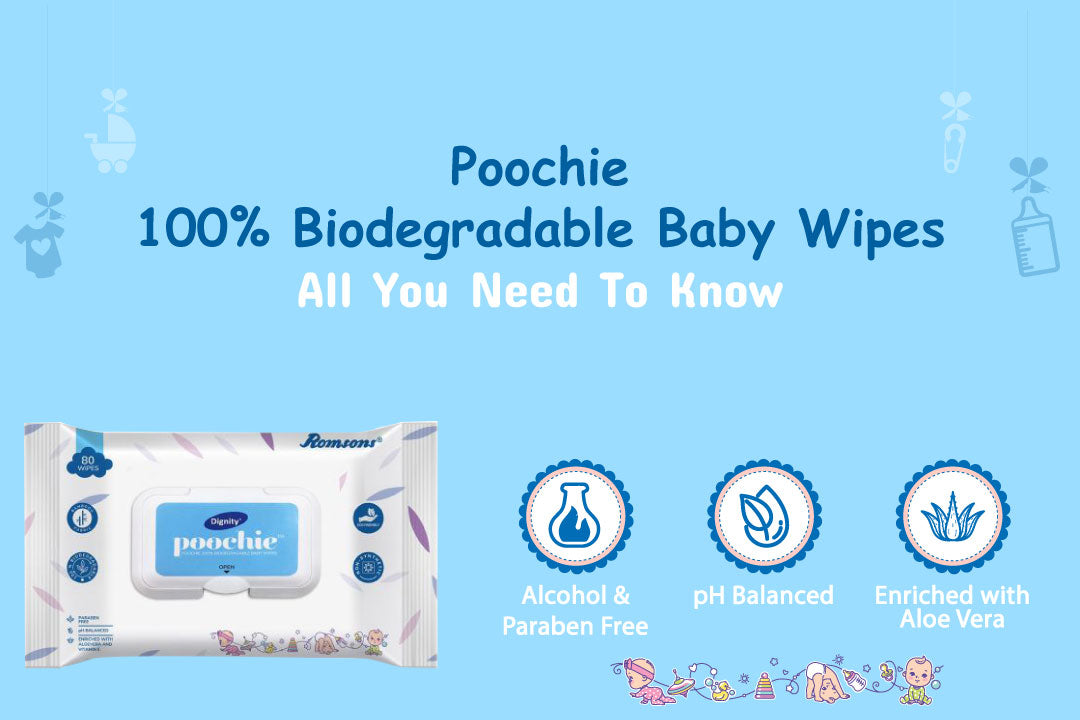 Summer brings along a string of heatwaves, dust, and humid temperature resulting in sweat. While adults can still beat the heat without much damage, the summer heat might leave babies feeling extremely uncomfortable.
Baby wipes, today, have become a household staple widely popular especially among the new parent. Wet wipes are moistened wipes specially designed for cleaning the sensitive skin of babies.
Parents prefer baby wipes because they come in handy while cleaning after their baby's mess or during diaper changes.  But what exactly makes them a preferable choice over reusable washcloths? The washcloth when used on the baby's delicate skin can act as an irritant causing skin rashes. Whereas baby wipes are very safe and gentle on the sensitive skin of the baby.
One might be of the view that choosing a baby wipe and using them is a cakewalk. But we are here to remind you that buying a baby wipe for your precious little munchkin is no easy task. Summers combined with their delicate skin call for extra protection and care.
Now how do you select the right baby wipe from the array of wipes available? Easy, just go for Poochie 100% Biodegradable Baby Wipes. Crafted from the softest 100% Biodegradable Bamboo Fabric, Poochie Baby Wipes are 100% Alcohol & Paraben-Free thus, making them very safe for your baby's sensitive skin as well as the environment.
It is no surprise that a baby's skin is highly sensitive and thus needs to be looked after gently. Poochie baby wipes are made keeping babies in mind, hence they are mild and are crafted using hypoallergenic fabric that helps prevent any skin rashes or infections. 
The diaper area of the baby's skin is regularly exposed to wetness, urine, and poop. Cleaning with water is not enough. This is why most babies experience at least one episode of diaper rashes or dry skin. Especially in summers where the sweat clogs the pores of the baby's delicate skin, and making the baby bathe multiple times a day isn't very feasible, Poochie baby wipes can prove to be very useful. They are an excellent alternative to bathing and extremely safe to be used on a baby's face and intimate areas.
Effective prevention and treatment of diaper rash require frequent changing and cleansing of the skin. With every diaper change, it's important to thoroughly clean the area. Using gentle wipes like Romsons Poochie 100% Biodegradable Baby Wipes can help make this clean-up job quick and easy. Application of creams and using disposable diapers can also reduce the likelihood of diaper rash but to save your baby from dry skin it is important to limit the number of baths and use baby wipes instead. Infused with the goodness of  Aloe Vera and Vitamin E, Poochie Baby Wet Wipe gently cleanses and moisturizes the baby's skin.
You may wonder why gentle, effective cleansing is important? Back in the day, mothers simply used to wipe the skin of their babies with a washcloth.  However, this isn't enough if you wish for healthy baby skin with a maintained pH balance. The mess from dirty diapers and clothes can increase the pH, which makes the skin more susceptible to irritants that can cause skin rashes. Regularly cleaning the skin with Poochie Baby Wipes can easily eliminate these irritants and help maintain a healthy pH balance.
These wipes are ideal for a nappy change, hand wipe, and face wipe and come in a lid pack that helps retain moisture for a long time. Poochie Baby Wipes are disposable wipes that are very convenient to use and carry. Their compact size makes them an ideal travel partner.
Romsons Dignity 99% Water Wipes is also an excellent choice for your baby. To know more about these wipes, click here https://bit.ly/38oiA1I
---
Share this