Pregnancy & The Power Of A Balanced Diet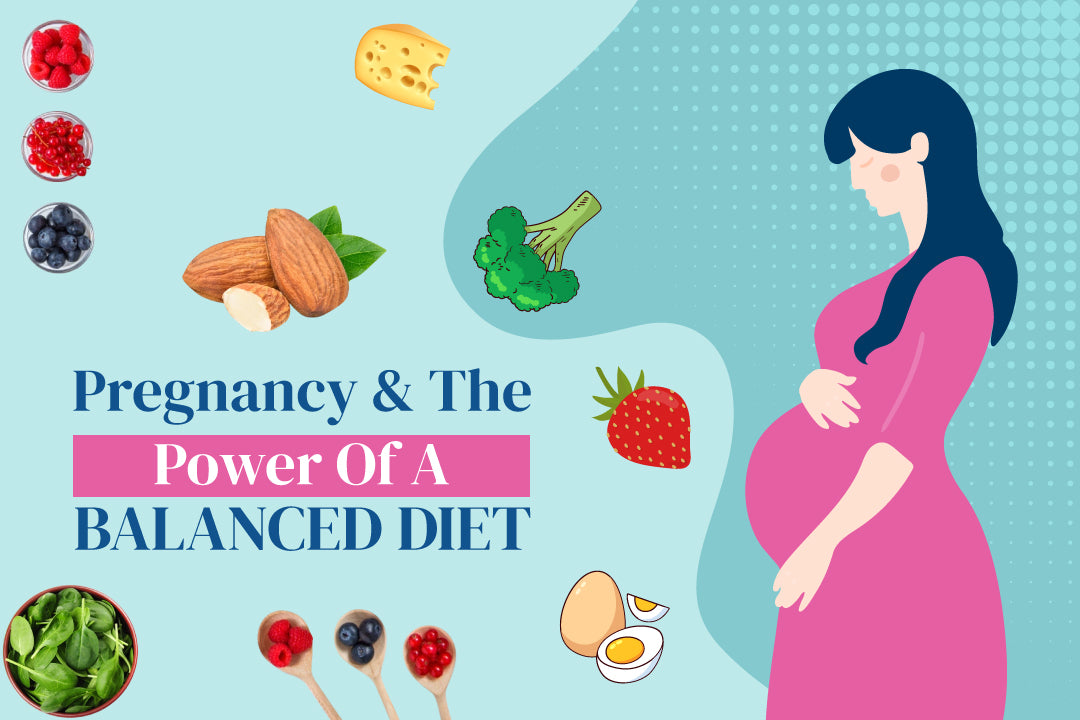 Pregnancy & The Power Of A Balanced Diet
Eating healthy is imperative for every individual, but it becomes even more vital if you are pregnant or in your post-natal phase. Being healthy ensures a smooth pregnancy and provides your baby with the essential nutrients required for their overall growth and development. Though there's no crash-course on a healthy pregnancy diet, one should certainly aim for taking a balanced diet by incorporating a blend of these 5 essential food groups:
Fruits and Vegetables
Proteins
Carbohydrate
Dairy products
Nuts
Incorporating these nutritional superstars in your daily diet keeps you and your baby healthy. Special emphasis should be laid on drinking plenty of water during pregnancy. Food containing high sugar and fat must be avoided, but that doesn't mean cutting out your favorite meals. A right balanced blend of healthy and your favorite food items can help you have a healthy pregnancy.
Fruits and Vegetables
Fruits and vegetables are rich in fiber & provide essential nutrients. Eating the right amount of fiber helps in proper digestion & prevents constipation. Green leafy vegetables such as broccoli, asparagus, spinach, kale, etc., are required as they contain essential vitamins & nutrients like Vitamin C, Vitamin A, Vitamin K, calcium, folate, iron, and potassium. Food rich in fiber also reduces the risk of heart diseases & builds the immune system. Fruits such as berries should be a part of a pregnant woman's diet. Berries have low glycemic index values, which helps them in keeping the blood sugar level under control. They contain Vitamin C, which is vital for the uptake of iron in the blood. Oranges are also a good option as they have the power to deter morning sickness. 
Proteins
Protein-rich food items are essential for a baby's growth. Foods such as meat (except liver), seafood, eggs, beans, legumes, lentils, split peas, etc., are healthy to be included in your daily diet. Legumes such as peanuts & soybean should be added to the diet as they are excellent sources of iron, folate & protein. Eggs are also a natural source of protein & keeps the immune system strong. Another rich source of protein is seafood; fish like cod, salmon, trout, and pollock can also be included in the diet. 
Carbohydrates
During pregnancy, metabolic adaptations allow the mother to meet her own nutritional needs and the needs of her developing baby. These specific adaptations, as well as weight gain during pregnancy, impact insulin metabolism and cause hyperglycemia or high blood glucose level. When pregnant, women can also generate impaired regulation of blood glucose levels, thus, leading to the development of gestational diabetes mellitus. Thus, carbohydrates are essential for balancing blood glucose levels and keeping them stable.
Dairy Products
Consuming dairy products during pregnancy is good. Yogurt, Milk, and Cheese should be included in the diet as they are rich sources of calcium & protein. Eating soft cheese like Feta & Brei is a good option as they are a source of high-quality protein, which is helpful in the development of the baby inside the womb. As we all know, calcium is essential for the bone development of a growing baby; therefore, Milk or soy milk is also a vital food item to be added to a pregnant woman's diet. A pregnant lady can drink up to 3-4 cups of low-fat milk in a day. Another dairy product that can be incorporated into the daily diet is Yogurt. Eating Yogurt is good for health as it contains probiotic bacteria, which is good for maintaining digestive health during pregnancy. Yogurt is also a rich source of magnesium, zinc, phosphorus & Vitamin B.
Nuts
Talking about nuts, they are a reservoir of Vitamins & Minerals like zinc, potassium, and magnesium. Nuts also contain fiber, proteins, and healthy fats. You should include nuts in your daily routine as each has its unique nutritional value, which is important for the baby's development. On the other hand, Walnuts are full of Omega 3 fatty acids and are crucial for the baby and the mother. Peanuts can also be eaten as it contains folate which is needed especially during the early stages of pregnancy and helps in the formation of Neural Tube. Another vital nut to be included is Almonds. Almonds are full of manganese, copper, phosphorus, and Vitamin E. 
It is very important to monitor diet very closely during pregnancy. Good food habits minimize the risk of developing any complications or health issues and promote the healthy development of the fetus. Moreover, a healthy diet during pregnancy will make it easier to lose that extra weight after delivery. Explore our Women's Care range by clicking on the link: https://bit.ly/2WS5LXZ
---
Share this