Spending Quality Time With Senior Citizens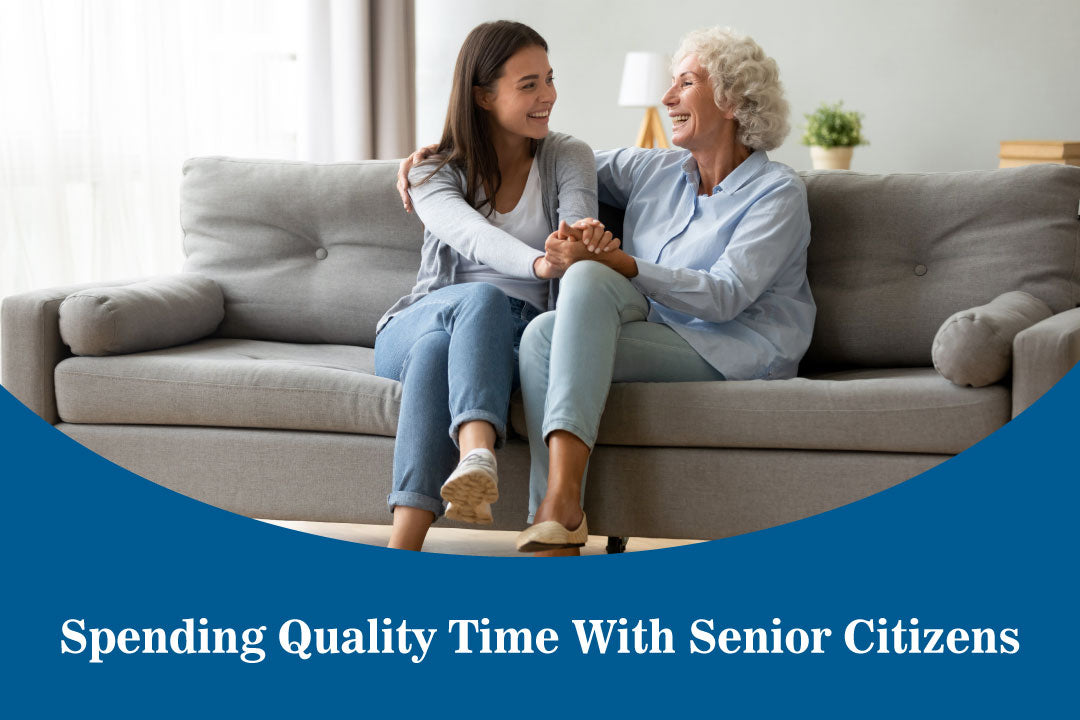 We all have seniors in our lives whether they are grandparents, parents, teachers, or coaches. Senior citizens are our guardian angels, they help us to grow in all dimensions. As we grow up, we get busier with our work and we often forget to spend time with our loved ones. In this process, our seniors end up facing some severe anxiety issues, depression, and other mental health issues. We do have many ways to get closer to our loved ones. As very rightly penned by a renowned poet Ralph Waldo Emmerson on aging "Best tunes are played on the oldest fiddles."
Ways to Re-establish your Connection
There are many ways to spend quality time with Senior citizens, you just need to figure out their interests. In this evolving world where people are so busy with their daily chores; it's getting harder to understand the needs of those around us.
Plan a movie. Entertainment is the best medium of interaction or creating a bond with someone. Ask them for a movie of their choice and play it for them. Never force them to do anything whether it's a movie, dinner, or any activity. Do tell them what is trending and why they should watch a particular movie. Such movie plans not only would make your bond stronger but also give them a sense of confidence to interact. After watching, you can talk to them and discuss your thoughts about the movie. Such topics are very good for light-hearted conversations and chit-chat.
Plan some creative activity. If seniors around you are interested in some art and craft activity, then go for it. Fill the canvas with some colours, and paint with them. Making them create something new is the best way to get their lost confidence back, and is also very good for their minds. If you don't have a canvas, you can paint the pots and the flower vases with your loved ones. Remember making those small boats with them in the rainy season and those paper snakes and kites with them, you can recreate all those memories again. Apart from art and craft activity, you can also plan gardening sessions for them. Nature is the best healer, so planting some greenery could be helpful. Senior citizens are going to love these kinds of creative and soul-satisfying activities.
Sports activity. Not every elderly can play football or tennis with you, so play some indoor fun-loving games. If your parents or grandparents are okay with playing enthusiastic outdoor games then do it, make them feel young again. Before taking them out for any sport, prepare a bag of some basic essentials such as a water bottle, first aid kit, some adult diapers in case they have incontinence, or any medicines as a precautionary measure.
       Old age brings with it a lot of challenges and one such challenge is losing their partner at this age when they need them the most. It can impact the health of your loved ones tremendously. Dementia, depression, anxiety, incontinence may become part and parcel of the old age. Senior citizens who are lonely and socially isolated are at a greater risk of developing serious medical conditions.
 Benefits of Spending Time With Senior Citizens
Everyone has emotions and needs, and they should be valued. When children understand the vague concept of aging, they will realise that it is their responsibility to create a warm environment for seniors. Feeling forgotten, feeling alone, and wondering if you matter to others can be devastating at any age. Spending quality time together is not only helpful for seniors but also children. Participation in intergenerational programs and meaningful cross-age relationships may decrease social isolation and increase feelings of belonging, self-esteem, and well-being, while also improving social and emotional skills. Seeing the world through their lenses will add some points to your persona and make you a better human as well. We all have learning and experiences to share with others.
---
Share this