Things to Consider while Buying Home BP Monitor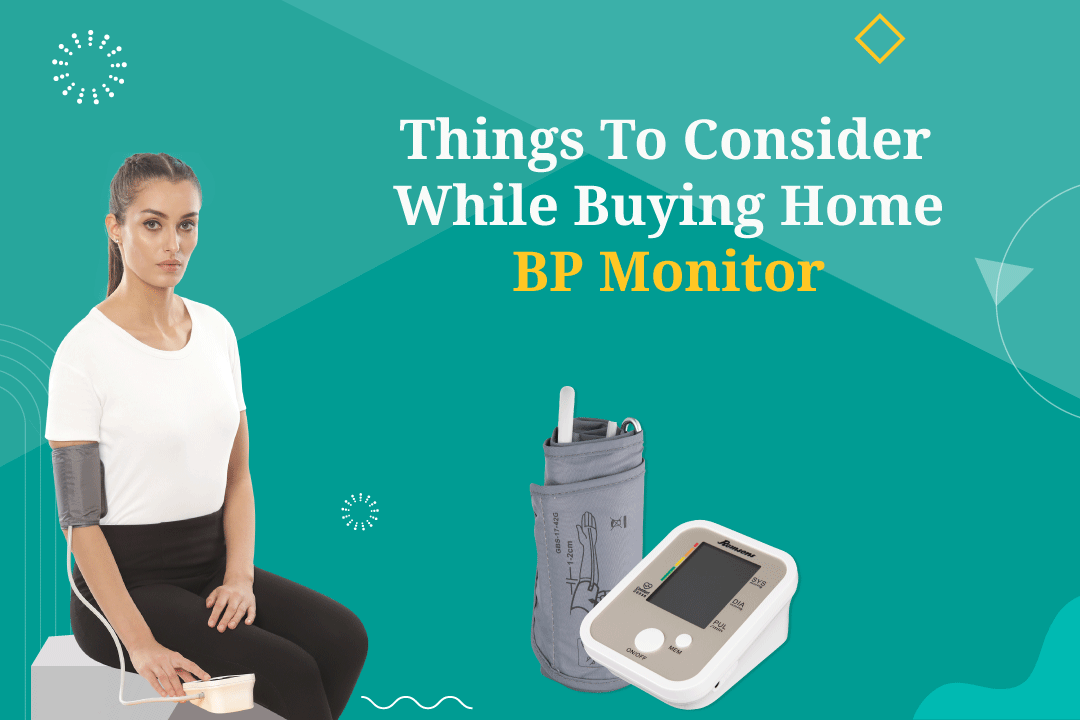 One in every five Indian adults is said to be suffering from hypertension (or high blood pressure). To make matters worse, the majority of that population might not even be aware of this. Hypotension or low blood pressure may cause no problem in some cases, however, severe cases may pose a threat to one's health. Timely diagnosis and constant monitoring are essential to avoid any serious consequences.
What is the Need to Measure Blood Pressure at Home?
As common as a high or low blood pressure may seem, if left untreated it may pose a severe threat to your health. Hence, self-monitoring is required. 
Early Diagnosis -

 

Genetics may play an added role in causing high blood pressure, diabetes, and other related problems. Self-monitoring is highly recommended to people with a family history of any. It helps your doctor diagnose high blood pressure earlier than he would from occasional visits for blood pressure readings.

Keeping Track of your Treatment - Home monitoring is beneficial in keeping track of any noticeable changes and effectiveness of your treatment. Regular monitoring will help you keep a tab on your blood pressure and alert you and your doctor about any potential health risks.
Saves Cost on Healthcare

 - Monitoring your blood pressure at home may help you cut down your visits to your doctor's clinic. Thus, helping you save some time and cost on the same.

Motivating towards better control

 - Self-monitoring may encourage

 

you towards keeping a better control on your diet, lifestyle, and proper medication use. 
Using a blood pressure monitor at home for the clinical management of people suffering from hypotension or hypertension is recommended widely. However, there are certain things one should consider before buying a BP monitor that meets their needs.
Things to consider while buying a home BP monitor
Cuff Size

 

- The size of the cuff is the most crucial feature to consider when buying a BP monitor. Wrong size may result in an inaccurate reading. For accurate results, it is important to buy a BP monitor that fits the circumference of your upper arm or wrist properly.

 
Display

 - The reading on the display of the blood pressure monitor should be clear and easy to read. 

Price - Do not spend a hefty amount on purchasing a BP monitor for home. Compare the prices available in the market before buying. You can easily get a good and accurate one at an affordable price.
Portable

 - If you are somebody who is always on the move then you may want to purchase an easy-to-carry BP monitor. A portable BP monitor will help you keep a tab on your blood pressure while traveling. Any sudden mishap can be prevented if you keep a regular check on your blood pressure.

Easy to Operate

 - Invest in a user-friendly device that is easy to use. The directions for operating should be clear. The readings on the display should be clear and easy to read. Go for a device that has cuffs that fit automatically to fit the shape of your arm for easier and accurate results.

Clinically Approved

 - When buying a home BP monitor make sure it is clinically approved for better and accurate results.
The American Heart Association recommends self-monitoring to everyone who suffers from high blood pressure. This helps keep track of the effectiveness of the treatment plan. Note: home monitoring is not an alternative to medication and regular clinic visits.
Check out Romsons Blood Pressure Monitor range for regular use. Romsons BP10 Automatic Digital BP Monitor has latex-free cuffs that fits all. It's easy one-touch operation allows it to calculate heart rate and monitor blood pressure by measuring the changes in the motion of your artery as the blood flows through the artery. The cuffs inflate by the press of a button and deflate automatically after use.
Romsons BPX Plus is a compact, fully automatic blood pressure monitoring device that is highly recommended for its easy one-touch operation and fully automatic monitor. The device comes with automatic inflation and deflation of the cuff, auto shut-off after use, and a memory recall button. 
For more information click here: https://bit.ly/3qDzFLV
---
Share this