Top 10 Health Care Products Every Home Should Have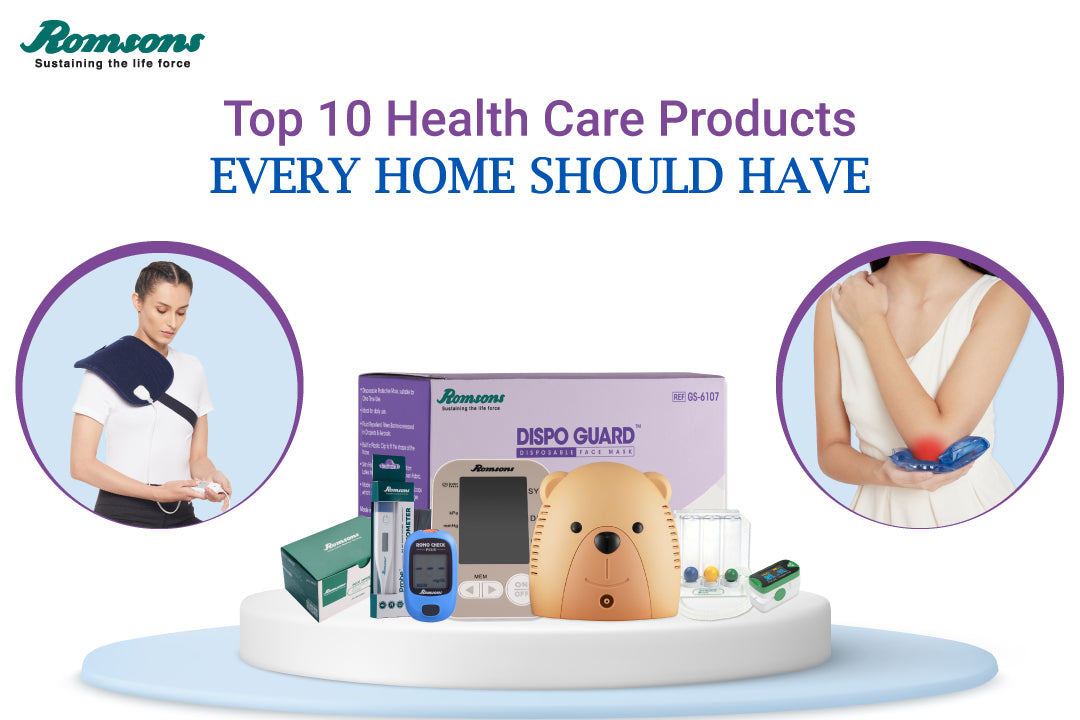 Maintaining good health is a priority for every individual, and having certain healthcare products readily available at home can make a significant difference in addressing minor ailments and promoting overall well-being. From first aid to daily health care, several must-have health essentials can come in handy in various situations. Here is a list of the top 10 healthcare products from Romsons every home should have, ensuring you are well-prepared for any concerns that may arise.
Health Care Products for Every Home
Looking for some essential healthcare products should be on every household's list. With the rising need for self-care, it's crucial to have access to reliable and effective healthcare products at home. Romsons, a famous name in the medical device industry, offers a wide range of products designed to promote well-being and provide essential care. Explore the top 10 healthcare products by Romsons that every home should have.
Romo Check Plus Blood Glucometer: Romo Check Plus Blood Glucometer is perfect for medical care, and its user-friendly design makes it easy to operate at home. Glucometers are compact and portable devices, allowing for convenient use in various settings. Glucometer provides accurate and reliable blood glucose readings, allowing users to monitor their glucose levels with confidence. Accurate reading is crucial for managing diabetes effectively and making informed decisions about medication. It is suitable for all age groups. It features a simple interface, a clear display, and easy-to-follow instructions, making it ideal for self-monitoring.
BPX PLUS Fully Automatic Digital Blood Pressure Monitor: Romsons BPX PLUS BP Monitor incorporates cutting-edge technology to ensure accurate and reliable blood pressure readings. Equipped with intelligent sensors and advanced algorithms, this device guarantees precise measurements with a simple one-touch operation. The device's automatic inflation and deflation systems further contribute to accuracy by eliminating potential errors caused by human factors. Its large, easy-to-read LCD display provides clear readings of blood pressure levels, making it accessible for users of all ages. One of the key advantages of the Romsons BPX PLUS Blood Pressure Monitor is its ability to store and manage blood pressure reading data up to 120 times. This feature proves invaluable for individuals monitoring their blood pressure trends and progress during their health journey.
Dispo Guard Face Mask: Dispo Guard Face Mask is a testament to Romsons commitment to delivering high-quality healthcare and personal protection products. It is designed to provide a reliable barrier against airborne pollutants, allergens, and pathogens, ensuring the safety and peace of mind of its users. This face mask features a triple layer with a melt-blown filter, ensuring enhanced filtration efficiency. With a 99% Bacterial Filtration Efficiency, the Dispo Guard Face Mask efficiently filters out harmful bacteria and reduces the risk of respiratory infections. The mask's outer layer exhibits excellent fluid resistance, offering an additional safeguard against droplets, splashes, and sprays.

It features soft, non-woven ear loops for comfortable wear for a prolonged period without causing discomfort or strain on the wearer's ears. Dispo Guard Face Mask has been crafted with breathable material that allows for optimal air circulation, enabling comfortable respiration while minimising heat and moisture buildup. Additionally, the mask is designed for single-use, ensuring hygienic practices and preventing cross-contamination.
Oxee Check Finger Pulse Oximeter: This innovative device is designed to provide quick and reliable oxygen saturation (SpO2) and pulse rate measurements, empowering individuals to keep a vigilant eye on their health. Romsons Oxee Check Finger Pulse Oximeter has the ability to deliver precise and instant measurements; by simply placing your finger inside the device, you can obtain an accurate reading of your blood oxygen levels and pulse rate within seconds. The device features an OLED display that shows clear and easily readable results. Its one-button operation makes it easy and convenient for individuals of all ages. Romsons Oximeter uses little power and may run for up to 30 hours on two AAA batteries. This device automatically shuts off after 8 seconds of inactivity, conserving power and ensuring that the battery lasts longer.
Probe Digital Thermometer: A reliable digital thermometer is crucial for monitoring body temperature, especially during illness. Romsons Probe Digital Thermometer utilises state-of-the art technology to deliver accurate and instant temperature readings. Equipped with a high-quality digital probe, this thermometer ensures precise body temperature measurements. The thermometer features a clear and easy-to-read display, ensuring that users can effortlessly interpret the temperature readings. The thermometer comes equipped with a memory function, allowing users to store and track temperature readings over time. Additionally, the thermometer includes a beeper alert and an auto-off function that switches the device off after a period of inactivity.
Reusable Hot & Cold Pack: Romsons Hot & Cold is a gel pack that provides dual-purpose relief by offering both hot and cold therapy. Romsons Hot and Cold Pack comes with Therapeutic Gel Technology. The gel pack is made of a premium-quality, non-toxic gel that efficiently retains temperature for extended periods. This ensures long-lasting therapy sessions, providing sustained relief from pain or discomfort. The pack can be quickly heated or cooled, making it suitable for a variety of conditions. Heat therapy relaxes muscles, increases blood circulation, and relieves chronic pain, whereas cold therapy decreases inflammation, reduces swelling, and numbs acute agony. This adaptability enables users to treat a wide range of conditions, such as sports injuries, arthritis, migraines, and post-surgery recuperation.
Respirometer Deep Breathing and Lung Exerciser: Romsons Respirometer is an innovative device designed to facilitate deep breathing and lung exercise. It consists of a user-friendly handheld device with three transparent chambers to provide visual feedback on inhalation and exhalation, enabling users to monitor their breathing patterns and progress. The device plays a crucial role in post-surgical recovery, facilitating deep breathing exercises that prevent complications. Promote lung health by exercising the respiratory muscles and improving lung capacity. The Romsons Respirometer Deep Breathing and Lung Exerciser is easy to clean and conveniently constructed. Cleaning regularly aids in the removal of dirt and other pollutants.
Angel Compressor Nebulizer: Romsons Angel Compressor Nebulizer Machine is the go-to choice for individuals seeking a reliable, versatile, and efficient device that ensures optimal delivery of medication to the respiratory tract and lungs. It has a high-quality compressor with Mass Median Aerodynamics (MMAD), a long-lasting nebulizer chamber, and a comfortable mask. This machine has a simple one-button operation, making it ideal for household use. It is portable and easy to carry due to its compact form and piston pump. Asthma, COPD, and bronchitis can all be effectively treated with the Angel Compressor Nebulizer. It can also be used to relieve the symptoms of colds and viral infections.
Alco Swab Alcohol Gauze: Romsons Alcohol Swab is designed to provide a quick and effective solution for disinfection purposes, thereby reducing the risk of infection. Whether in hospitals, clinics, or even within the comfort of our homes, these small yet powerful swabs have garnered significant attention for their functionality and user-friendly four-layer wrapper, which provides an airtight seal. Each swab is saturated with 70% V/V isopropyl alcohol, a proven and widely recognised disinfectant. This ensures that the swabs are potent enough to eliminate a broad spectrum of bacteria, viruses, and other potentially harmful microorganisms on the skin's surface. This feature makes them ideal for use in various settings, such as during first aid applications, before vaccination, post-surgery, or before simple procedures like blood sugar testing. The compact size and easy-to-tear packaging make these swabs travel-friendly, allowing individuals to carry them in their bags, pockets, or first aid kit without any hassle.
Heating Pad: Romsons Heating Pad, an effective product designed to provide comfortable warmth and pain relief, has emerged as a go-to solution for individuals seeking a drug-free approach to managing their discomfort or pain. Heating pads harness advanced three-level temperature setting technology to provide targeted and even heat distribution across the surface. By incorporating a precise temperature control system, it ensures that the pad reaches and maintains the optimal temperature for maximum pain relief. Whether you are dealing with backaches, sprains, menstrual pains, or muscular and joint pains, the ergonomic design of the Romsons Heating Pad makes it remarkably versatile and user-friendly.
Investing in reliable and high-quality healthcare products is essential for maintaining the well-being of your family. Romsons offers a comprehensive range of healthcare products that cater to various needs, from monitoring blood pressure to managing first aid. By having these top 10 healthcare products from Romsons in your home, you can ensure prompt attention to health concerns and facilitate self-care.
Equipping your home with these top 10 healthcare products ensures that you are prepared for common health concerns and emergencies. By having a well-stocked first aid kit with an Alco Swab, a Probe Digital Thermometer, and other essential items, you can easily address minor health issues promptly. Remember, while these healthcare products are valuable assets, it is essential to consult a healthcare professional for any significant or persistent health concerns.
To know more about Romsons Essential Care, click here.
---
Share this