Treating Pain With Hot/Cold Pack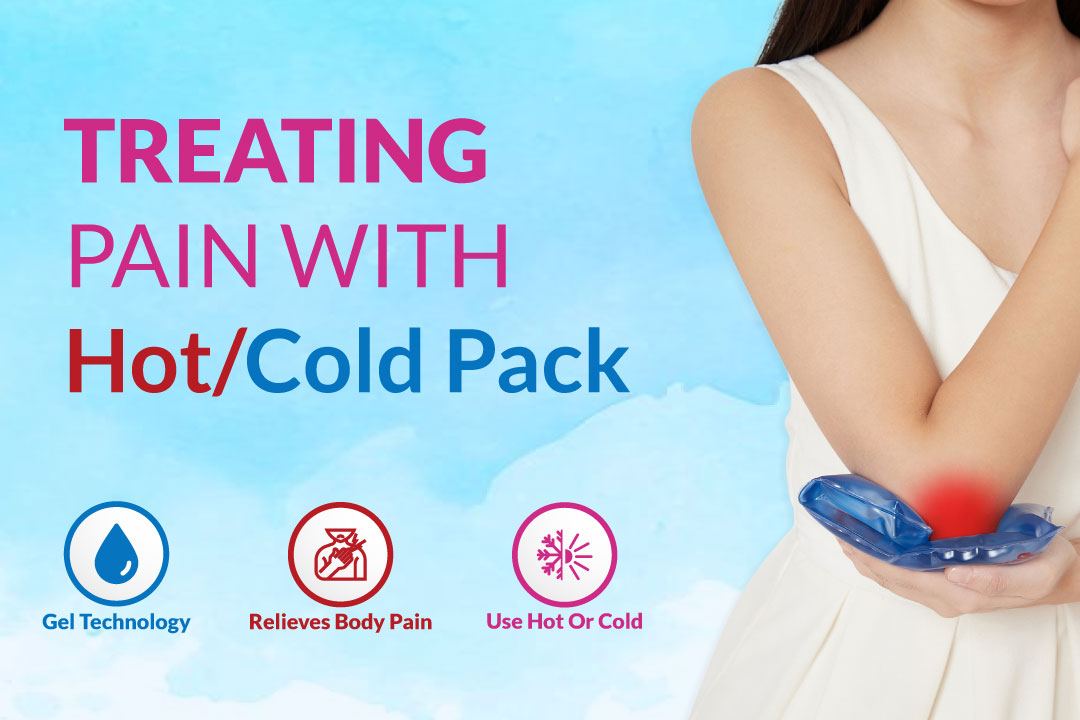 Aching pain resulting from muscle or joint damage can often be treated using hot/cold therapy.
We use ice packs or heating pads to treat everything from pulled muscles to inflammation. Treating pain with hot and cold packs can be extremely effective for several different conditions including injuries, surgeries, etc. and is quite affordable.
The difficult part is knowing which situation needs hot therapy and which requires cold compression. In general, ice is used for acute injuries or pain, along with inflammation and swelling whereas heat is good for muscle ache or stiffness.
Hot therapy involves the use of hot water bottles, microwavable heating pads, or a warm bath whereas cold therapy involves ice packs, water bottles filled with cold water or ice wrapped in cloth.
Do you know that the two can be used together to treat aches and pain?
This technique of applying hot and cold therapy alternately is also known as 'contrast therapy'. It involves the application of heat and cold alternately on the affected area to relieve the pain. 
Why Does Hot/Cold Therapy Good For Treating Pain?
Applying hot/cold therapy is a simple low-risk treatment that can be performed in the comfort of your home. Both heat and ice have their uses in treating the injury. To understand the benefits of using hot/cold gel packs, it's useful to know exactly how and when the heat and cold work for pain relief and when they don't. 
The Benefits of Ice On Injury
Cryotherapy is the use of ice, or very cold temperatures for treating pain. It is effective because it causes narrowing of the blood vessels. The muscles contract, which helps in lessening inflammation, and pain signals are reduced.
On the contrary, the same can make spasms and muscle tension worse.
The Benefits of Heat On Injury
Heat therapy increases circulation by expanding the blood vessels which lessens pain and relieves cramping or aching muscles. It also aids the healing process by drawing the nutrients via blood to the affected area, while helping the body's cells to get rid of waste products.
Heat, however, can make inflammation worse.
Given all its benefits, it is safe to conclude that hot/cold therapy works best for the treatment of minor muscle pulls, inflammations, aches, and pains. However, doing so on your own can be difficult unless you have a handy gel pack with you. These gel packs can be easily heated and cooled as per your individual needs. For those of you looking to add a gel pack to your first aid highly recommended by doctors, physiotherapists, chiropractors, and sports trainers, we recommend going for the Romsons Hot & Cold Pack.
It is a gel-based pack that can conveniently be used for both hot as well as cold compressions. For immediate relief during an emergency keep it handy in the first-aid kit. It is a reusable multipurpose pack. Its gel-based technology helps retain heat as well as cold for longer durations. It also makes it flexible when cold. It is ideal to be used for sports injuries, muscle pain, body ache, managing sciatica, treating arthritis, post-operative inflammation, swelling, and much more. 
For hot compression, heat the gel pack in a microwave for a minute and use it as a hot pack; whereas for cold compression, simply put it in a freezer to use it as an ice pack. The Romsons Hot & Cold Gel Pack comes with an attractive cloth cover. The cover has a velcro that can be placed anywhere on the surface to tighten or loosen the grip. What's more is that these gel packs come in two varying sizes, Medium and Large. 
---
Share this