Virus Is Getting Smarter, So Should You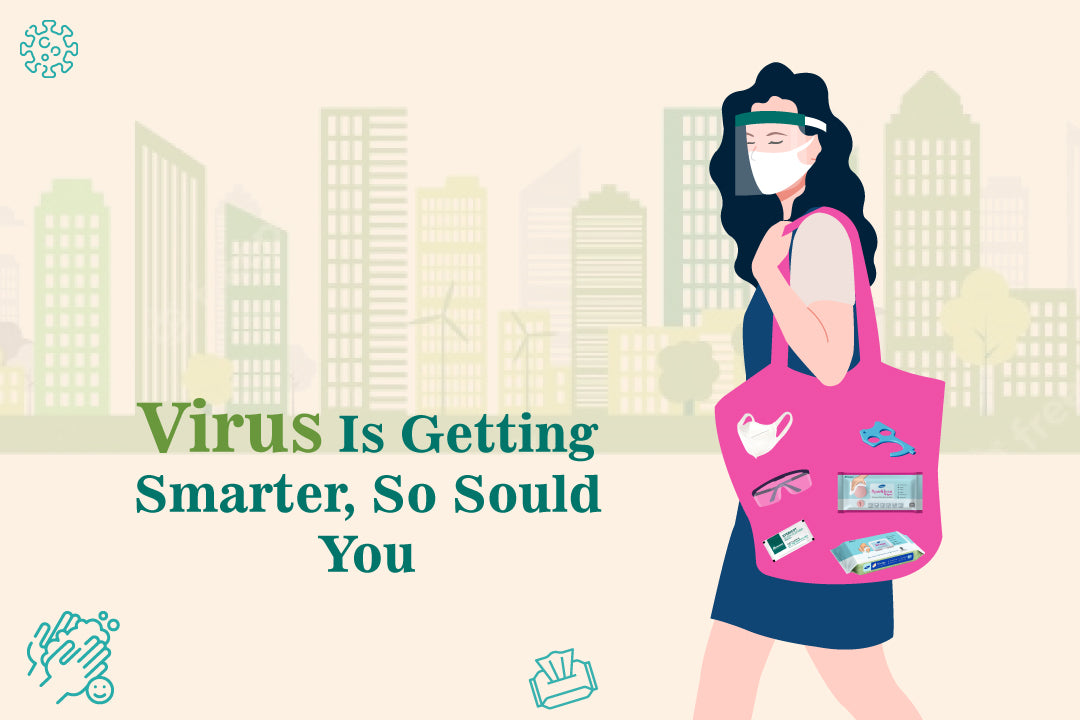 Virus Is Getting Smarter, So Should You
The beginning of Covid-19 took the world by storm. Millions of people across the globe faced an existential crisis. Now to people who are still unaware of what hit them, here's a little overview before jumping to the good part. The virus that had the human population coping up in the safety of their homes first appeared in Wuhan City, China, 2019. Sars Cov2, as it's called, spread in and out of China, thus, starting the chain of transmission through human contact. However, for those of you who don't know, Sars CoV2 has been active well before December 2019. The coronavirus itself has been present ever since.
So, what made the virus spread like this?
The virus originated in animals and may have mutated to affect humans. In short, the virus evolved. It has been advancing since then. A large chunk of the population suffered due to a lack of access to quality healthcare and personal protection care products. As we enter the third year of the pandemic, the virus has completely taken hold of our lives and spun it around. 
Getting Smarter
Unfortunately for us, the virus is still here to stay. Since we have already fallen prey to the virus's game, our only option for survival is to play along. Until the time we can't fight it, we must avoid it. We cannot stay hidden forever in the safety of our homes. To step out with confidence, stepping up your safety game has become the need of the hour.
So how to stay ahead of the game?
Follow the precautionary measures and safety guidelines laid down
Prevention is better than cure. Following the precautionary & safety measures laid down as per the guidelines is a must. Get ready to brush up those basic safety precautions with us:
      1.Always wear a mask in public. Your mask should cover your nose and mouth. Wearing a mask on your chin or below your nose is not gonna help your case.
      2.Keep your distance. Let's get used to maintaining distance as well. Try to keep a physical distance of at least 1 meter from people. If possible, avoid going in crowded areas altogether for the time being.
      3.Pay close attention to your hygiene. Personal hygiene is much more than just keeping yourself clean. Wearing your masks and disposing them the right way is also a part of your hygiene and an important precautionary measure.
      4.Don't forget to sanitize your hands and/or any surface area that you come in contact with frequently. Keep a bottle of hand sanitizer and sanitizing wipes handy. There are various sanitizers, hand wipes, and surface cleaning wipes available for your use.
      5.Lastly, get vaccinated if you haven't already. Vaccination is necessary folks, not only for your safety but for those around you. Follow the local guidance on vaccination.
Invest in Personal Protection Care Products
One cannot solely survive with masks and sanitizers in current times. To stay ahead invest in some personal protection and healthcare care products to ensure maximum safety of yourself and your loved ones. 
Let us break down for you a list of must-have personal protection care products:
As mentioned earlier, make masks your best friends. Forget about stepping outside your house without wearing a mask. There are a variety of masks available - surgical masks, 3D Masks, N95 Masks, etc. 
Depending upon the need, choose a mask that has at least one layer of meltblown filter to ensure complete protection. A mask should always cover your nose and mouth completely, fit snugly without leaving gaps on the side or around the nose to prevent any air from seeping in. 
The majority of toddlers or young children feel uneasy wearing a mask. Getting to cover their nose and mouth might become an impossible task next to bathing them in winters. Buy face masks manufactured especially for kids. There are N95 face masks available for kids with adjustable ear loops.
Almost as effective as sanitizers, cleansing wipes can also be effectively used to ward off germs and bacterias from our hands or multiple surfaces. They are easy to use and carry around, and are crafted to clean any surface off germs, dirt, and grime. Buy some cleaning or sanitizing wipes for your hands too. Frequent use of sanitizer may cause loss of moisture and may leave your hands rough and dry.
To prevent coming in direct contact with high-touch surface areas such as sink faucets and knobs, light switches, communal spaces, shopping carts, etc., put your money into surgical hand gloves. Throw them off in a bin once used. However, may we suggest that it's always better to keep washing or sanitizing your hands than using hand gloves. The change of coming in contact with the bacteria is higher with hand gloves. 
      5.Safety Hands-Free Covid Key:
Safety hands-free or a covid key is a multi-functional tool designed to assist in opening doors, operating keyboards, laptops & ATMs, pushing elevator buttons, and holding bags without coming in direct contact with contaminated surfaces. This safety key is compact and portable and can be reused after sanitizing or washing with simple soap and water. Life-saver indeed!
Face Shield Protector is a lightweight shield made out of plastic that protects the entire face of the wearer. They keep you from touching your eyes that are left uncovered while wearing a mask. They are a common sight among healthcare, laboratory and industrial workers. As the pandemic continues, they are becoming prevalent among the masses as well.
Getting Smarter with Romsons
If you want to avoid the hassle of looking for all the above-mentioned personal protection care products from different sources, we have an easy solution for that. Visit us on https://bit.ly/3JmI2Te  and buy it all in one space. Could it get any easier? Yes, Romsons Care Package, Covid Safety Combo Box is your answer. All covid essentials in one box. The covid safety care kit is a combination of various personal protection care products mainly, medically approved masks, cleansing wipes, covid key, and much more. Buy yours now!
---
Share this