Why 3-Ply Surgical Masks Are Safer Than Cloth Masks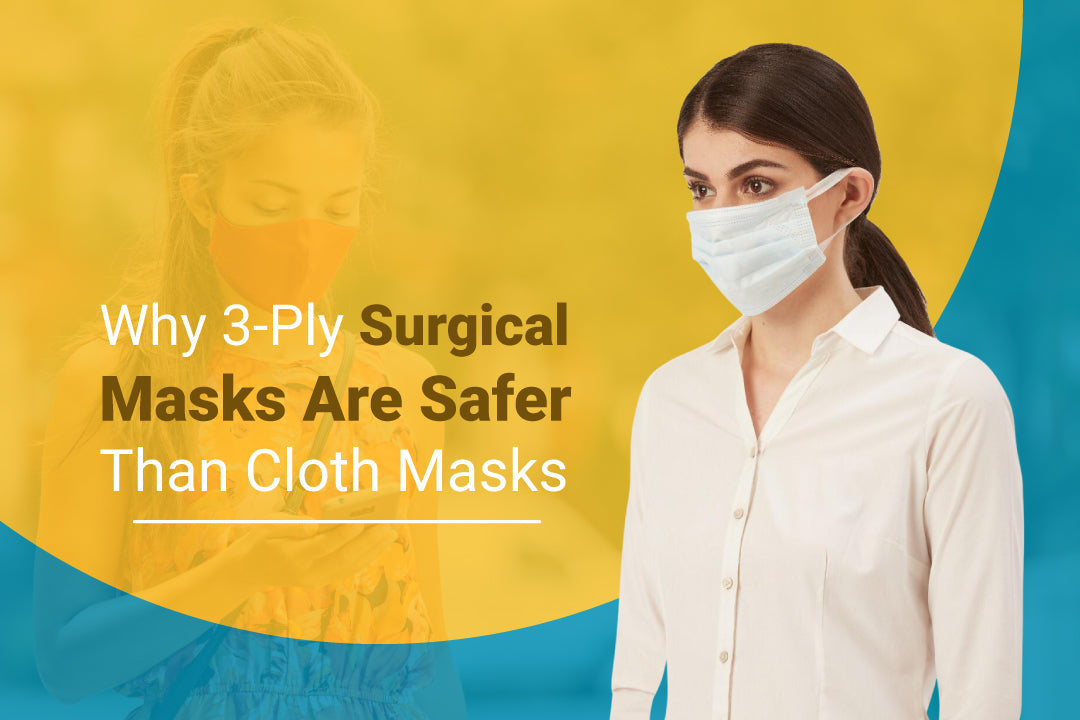 Why 3-Ply Surgical Masks Are Safer Than Cloth Masks
Masks are one of the most comprehensive measures for minimising the transmission of Viruses & Bacteria shed in droplets and aerosols. With the outbreak of COVID19, face masks have become crucial for everyone. Ranging from a common man to a medical professional, everybody is seen donning a mask, especially in public areas where the risk of contamination is much higher.
One has also been witnessing an ever-growing trend of matching the face mask with a variety of outfits. Contrary to the fashion statement it makes, cloth masks are highly risky and can put you and your loved ones in grave danger.
As per the U.S. FDA, Food & Drug Association, a surgical mask is a loose-fitting disposable mask that creates a barrier between the mouth & nose of the wearer and potential contaminants in the vicinity. Having said that, certified Surgical Masks are subjected to specific regulations and stringent quality control measures that are not possible in regular Cloth Masks.
We have tried to draw a comparison between the two to show you why one should opt only for certified 3-Ply Surgical Face Masks.
Complete 3-Layer Protection
3-Ply Surgical Face Masks have been extremely common amongst doctors, surgeons, and paramedical personnel for a long time. However, with the onset of Covid19, these have started gaining momentum among the general population as well. 
To talk about the credibility of 3-Ply Surgical Face Masks, they boast of long-standing research against their cloth counterpart that doesn't have enough data to support their effectiveness. As the name suggests, 3-Ply Surgical Face Masks are engineered with a 3-layer technology that includes two layers of non-woven fabric with a protective layer of the melt-blown filter in the middle. These masks effectively protect the wearer from around 99% of Bacteria & Viruses shed in droplets and aerosols.
Cloth masks, on the other hand, do not have a melt-blown filter or multiple layers to provide adequate protection against splashes or large-particle droplets released in the air.
Proper Fit
Proper fit of a face mask is of utmost importance to prevent the seepage of any harmful airborne particles from the corners. One needs to make sure that the face and nose of the wearer are covered at all times. Licensed 3-Ply Surgical Face Masks guarantee an absolute snug fit experience thanks to their stretchable elastic ear loops and an adjustable nose bridge. This ensures no leakage from the edge of the mask, leaving the wearer secure and safe.
On the other hand, Cloth Masks are not disposable, and the stretchable elastic loops tend to loosen with time. These masks usually do not have a nose bridge, leaving a significant gap around the nose area.  
While choosing a mask, one has to make sure that it's comfortable to avoid touching the front of the mask unnecessarily. Usually, this is the area that is most contaminated.
Disposable
3-Ply Surgical Face Masks are made for one-time use only. This makes them safer by reducing the risk of contamination. Masks may contain bacteria or viruses on the outside, and thus it is best recommended to dispose them of responsibly. Cloth masks, though laundered regularly, might not be able to wash out the bacteria completely.
Troubled Breathing
People suffering from asthma, sinusitis, or any other breathing difficulties can wear surgical masks for shorter periods. Cloth masks, especially those crafted from polyester or other synthetic fabrics, can be quite suffocating. 3-Ply Surgical masks are crafted from fine non-woven fabrics that make breathing easier.
To conclude, one can say that 3-Ply Face Masks are an effective way to prevent the spread of not only the novel Coronavirus, but also provide adequate protection against dust, pollutants, and other harmful elements present in the air. Wearing an effective mask is imperative to prevent the spread of the virus. Cloth masks, though fancy, are much less effective than the 3-Ply Face Masks. While choosing a mask, one has to consider the material it's made from, the comfort it guarantees, and most importantly the fit it offers.
Discover our range of masks here: https://bit.ly/3g6ymj8
---
Share this