Why Are Romsons 99% Water Wipes Every Mom's First Choice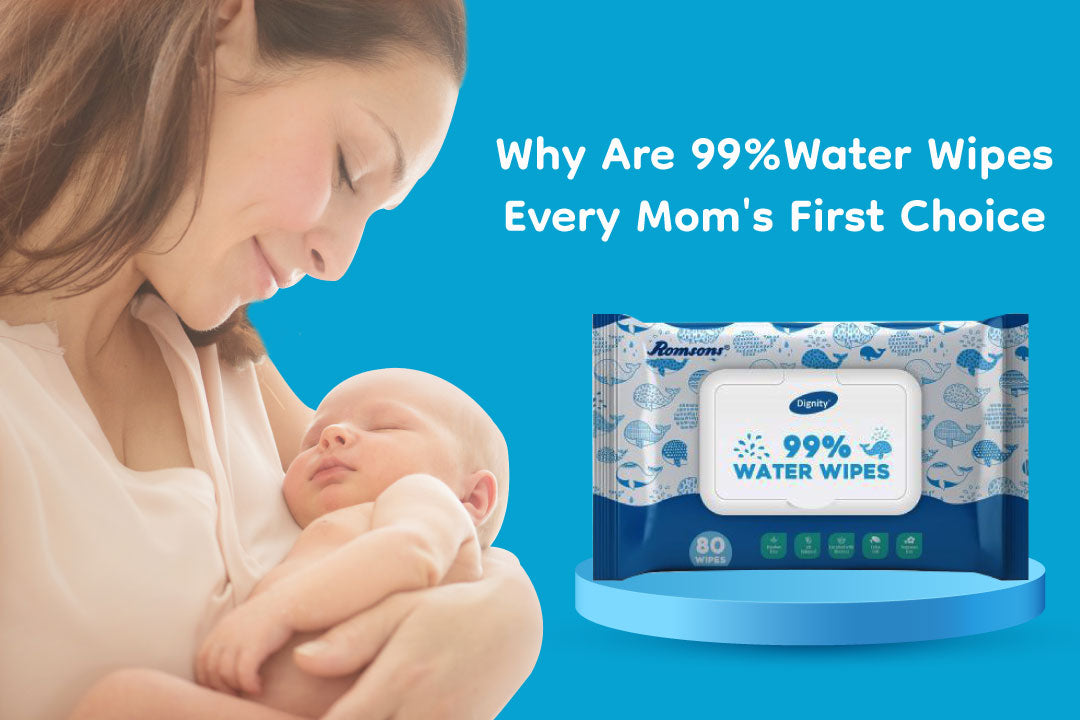 For all its blissful moments, let us take a moment to accept the reality that PARENTING IS NOT EASY. Being a parent is not a cakewalk like our elders made us believe. It requires a lot of planning, execution, and monitoring. Times have changed, so has the style of parenting.
What hasn't changed is the euphoric feeling of being a parent. The feeling of wanting only the best for your child remains the same. As a mom, a huge part of the responsibility falls on your shoulders to provide nothing but only the best to your child.
However, it is easier said than done. Looking after a newborn is no easy feat. Growing babies are prone to making a mess in everything they do. While we cannot stop them from making a mess, we can make the cleaning up easier. Wondering how to stop making multiple trips to the bathroom after every clean-up? Wet wipes are the simple solution to your everyday problems. Wet Wipes are disposable wipes designed especially for cleansing the sensitive skin of your baby. They are extremely useful in keeping your baby's clean and free of mess. Save yourself time and effort and invest in good wet wipes.
What are Water Wipes?
Water Wipes are your daily wet wipes formulated from 70%-90% ultra clean water. These wipes are ideal for your little one's sensitive skin. We know you won't compromise with your baby's hygiene and health. Hence, looking for the right baby wipe product is essential.
Why Romsons 99% Water Wipes?
With so many brands of wipes readily available today, we understand your concern about finding just the right one for your little one. Romsons 99% Water Wipes is every mother's first choice because we recognize your need to buy the best. Here's why we are every mother's favorite choice:
Romsons 99% Water Wipes are 

formulated with

 

99% ultrapure water

 and are most suitable for sensitive skins. These are infused with the goodness of

 

Aloe Vera and Vitamin E

 which provides optimal moisture to your baby's skin.

Romsons 99% Water Wipes are crafted from 

hypoallergenic fabric

 that prevents the risk of any rashes or skin allergies even on the most sensitive of skins. These wipes are the softest and safest option for your precious one. 

It is common knowledge, just how sensitive a newborn's skin is, hence, it should be protected at all costs. Chemicals like paraben are extremely harmful and should be avoided. Alcohol infused wipes can be harsh and may damage the skin. Our 99% Water Wipes are 

100% alcohol & paraben-free

 making them completely safe for cleansing your baby's skin.

Fragrance-infused wipes can irritate the skin. Hence, our wipes are 

fragrance-free

 which results in safe and healthy skin. 

With a promise of complete protection, Romsons 99% Water Wipes are designed to maintain the pH balance

 of your little one's skin and are extremely safe to be used on their face and intimate areas. 
Your struggle of looking for the right wet wipe brand for your baby ends here. Head over to our website https://bit.ly/3ITW8KD for more information.
---
Share this