Why Is Dispo Guard India's Favourite Mask?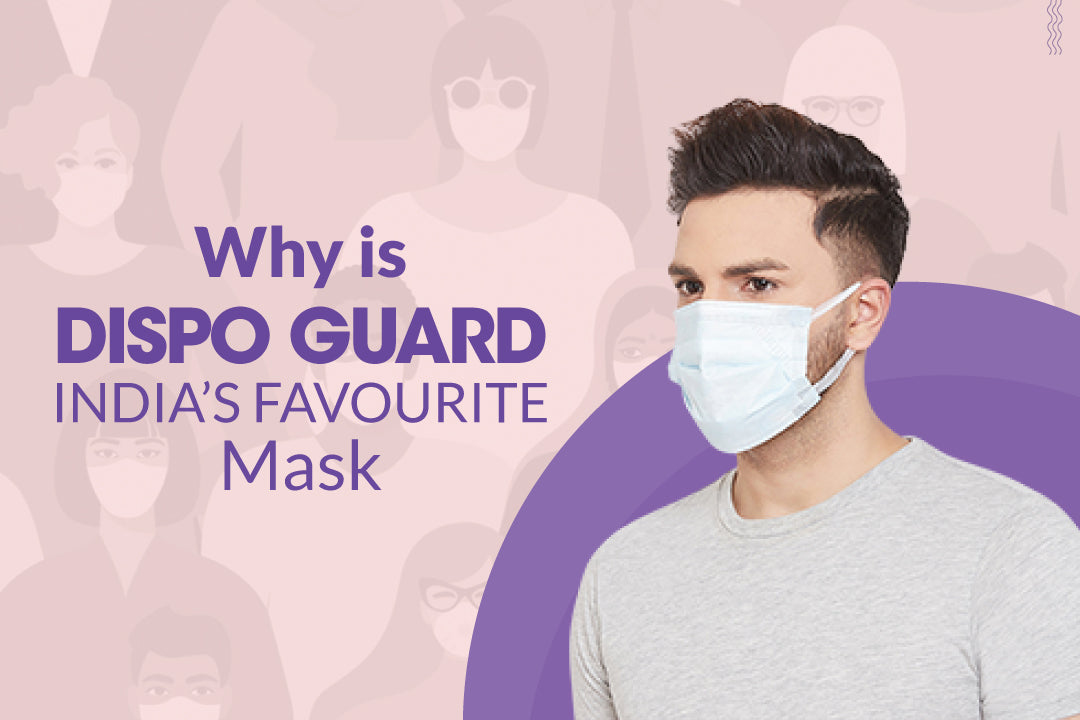 Why Is Dispo Guard India's Favourite Mask?
Face mask is a protective gear used to cover your nose and mouth to prevent the spread of bacteria or viruses shed in droplets and aerosols. Depending on their construction, face masks are crafted with varying layers each with its own significance. Earlier, masks were largely being used to protect oneself from pollution; however, with the onset of the Covid-19 pandemic, they started gaining greater popularity and went on to become an essential part of our lives.
During this time, one also saw the evolution of masks, ranging from companies introducing newer technological advancements, to the designers introducing masks with various kinds of frills and flourishes. What became an important point of consideration during these uncertain times were mainly two factors; firstly, how safe is the mask to protect you from the virus? Secondly, how comfortable was it provided one had to wear a mask for long durations now?
To address the need of consumers, Romsons introduced Dispo Guard, a 'Mask Revolution' we like to call. Look around you, and we bet you'd be able to identify almost every fourth person in India wearing a Dispo Guard. This is obviously minus the replicas you'd see around! Dispo Guard is every consumer's first choice as it offers the following benefits:
Comfortable Earloops: Ever seen people wearing their mask on the chin, below the nose or even taking "mask breaks" in public areas?  Elastic Ear Loops are cumbersome, and after some time, they tend to start hurting the back of the ear. To counter the discomfort, people often tend to remove their masks, not knowing that they are exposing themselves to greater danger. Dispo Guard boasts of a non-woven stretchable ear loop construction, making it so comfortable that you won't feel a thing behind your ears even after continuously wearing it for hours. 
3-Layer Protection: Dispo Guard comes in a 3-Ply Design with Melt-Blown Filter technology that guarantees 99% Bacteria Filtration Efficiency. These masks are approved by the concerned quality control bureaus of the country and are 100% safe to use. Melt-Blown filter comes with 2 layers of non-woven fabric, making Dispo Guard extremely safe and breathable on the skin. Dispo Guard blocks small particles in the air that may have been transmitted with coughing or sneezing. It protects the wearer from catching an infection, and a sick person from transmitting the disease. 
Hypoallergenic Fabric: Dispo Guard is crafted from super-soft hypoallergenic fabric which is extremely soft and sensitive on the skin. It protects the wearer from the risk of developing friction lesions or any rashes on the skin, associated with the prolonged wearing of masks. 
Snug Fit: Designed to fit all face types, Dispo Guard guarantees a snug-fit experience. This further eliminates the risk of contracting bacteria or viruses through any loose ends.
Adjustable Nose Bridge: Loosely fitted masks are very dangerous to use as they do not offer full protection from bacteria and viruses. Dispo Guard comes with an adjustable nose bridge that can be adjusted to fit the shape of the nose easily.
Disposable: The repeated wearing of a mask increases the risk of catching infections, as bacteria or viruses sometimes tend to stick on the outside surface. Dispo Guard Masks are ideal for single-use only, making them a more hygienic and safer option to choose daily. Be responsible while disposing of your mask.
Dispo Guard disposable face masks have become a personal favorite among doctors, surgeons, paramedical personnel, lab technicians, and the general population. The quality and trust associated with the brand make them India's favorite mask.
To order, Click on: https://bit.ly/3jI7CYg
---
Share this