Why Use Dignity Mom Maternity Pads?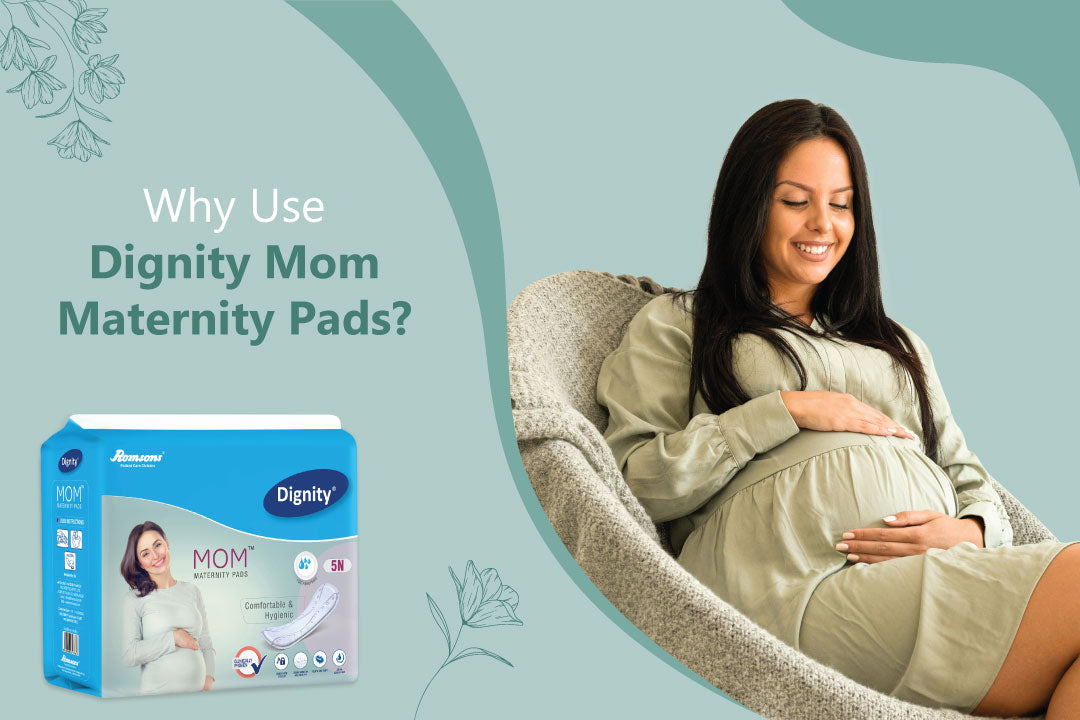 Being pregnant is a life-altering event in every woman's life. The journey to motherhood is full of discoveries, adjustments, and struggles. While we all agree it's no walk in the park, one of the easiest parts of pregnancy is period-free time. However, that too doesn't last long.
As soon as the baby has arrived the scenario changes. Like we said it is a roller coaster ride. When planning for your baby's arrival, it is important to look out for yourself as well. When making a list of all the essential stuff you will need after your pregnancy, don't forget to include items that will help you recover from postpartum blues.
This is where maternity pads come into play. A mother may experience postpartum bleeding for up to six weeks post-childbirth. While recovering from birth and looking after your newborn, maternity pads can provide comfortable and leak-proof protection.
Sometimes the bleeding can last longer than you think and may get the better of you. Keeping maternity pads handy becomes important. Before we dive into the details such as the uses, pros and cons of maternity pads, let us know what maternity pads are.
What are Maternity Pads?
Maternity pads, similar to sanitary pads, are pads made of the super absorbent core. They are specially designed to tackle heavy bleeding and discharge post-pregnancy. Maternity pads keep you comfortable and secure while absorbing excessive bleeding and discharge. 
These pads are thicker and absorbent than regular menstrual pads, storing more fluid. They also have elasticated leg cuffs for added security and their backs are longer and wider. 
The majority of postpartum pads are crafted from soft cushiony fabric for the utmost comfort of the mothers. This comfort is essential in case of postpartum perineal pain, or when you are experiencing overall pain, discomfort, and swelling.
When and Why Should You Use Maternity Pads Post Childbirth?
As the uterus heals, every mother begins to bleed excessively after giving birth. Maternity pad is needed to tackle the excessive bleeding post-delivery. Whether it is a normal delivery or a Cesarean; you would need a maternity pad anyways. 
The discharge is expected to be thick, heavy, and clogged. The bleeding is likely to be more severe than her period, and it can last anywhere from two to six weeks after delivery. The bleeding will slow down while you are sleeping, but if you wake up and move around, you may suffer a blood surge. 
This vaginal bleeding experienced by women post-pregnancy is called Lochia in medical terms. This lasts until all of the excess uterine surface and the placenta are eliminated.
The bleeding may last for weeks, but it will eventually slow down. As the flow declines, the hue of the blood changes from bright red to pinkish to brownish.
Why choose Maternity Pad over Sanitary Pad?
During typical periods, sanitary pads are convenient to use. However, due to the strong flow post-childbirth, maternity pads become necessary for maximum comfort and convenience. Maternity pads are longer, have a softer texture, and are more absorbent than regular pads. At this point, you can't afford to take chances with your cleanliness, which is why maternity pads are always preferable to sanitary pads.
Maternity pads are also larger and thicker, making them suitable for heavy bleeding. Things could become a little messy if you use sanitary pads after delivery. There is a risk of staining, which is something you want to avoid.
Will Using Sanitary Pads Instead of Maternity Pads Make a Difference?
The most noticeable fact about maternity pads is that they are required to be at least twice as absorbent as the normal sanitary pads to tackle heavy bleeding. Another fact, sanitary pads are not that soft and may pinch your tender vagina while maternity pads are softer and would not lead to itching, rashes, or infections. 
Therefore, replacing maternity pads with sanitary pads would make all the difference.
If you opt for sanitary pads over maternity pads, you will be compromising on your comfort and hygiene. Not only will you be constantly conscious of the staining, but you will also be uncomfortable with the vaginal stitches given in case of a natural birth. Always choose maternity pads that are designed specifically for women who have just become mothers. These pads are soft and designed to last  for long hours keeping in view your safety and comfort. 
What To Look For When Buying Maternity Pads?
To choose the best maternity pads for yourself, here's what you should look for:
Absorbent:

 Absorbency of the pad is very important when looking to buy maternity pads. Vaginal bleeding or discharge post-childbirth is especially heavy as your body is trying to expel excessive tissues and blood in the first few days. Highly absorbent maternity pads are suggested to tackle heavy bleeding. 

Breathable

: Coming down from the post-delivery high, comfort should be the top priority for the mother. Hence, it is essential to invest in maternity pads that are breathable and allow proper circulation to the vaginal area. Keeping the area dry helps prevent the risk of developing any infection or rashes.

Soft

: Invest in maternity pads crafted from the softest fabric to prevent discomfort to the vaginal area, itchiness, or rashes. Maternity pads should be very soft and gentle on the skin, especially because the women's skin is highly sensitive and sore post-delivery. It is advisable to avoid chafing against raw skin. 

Snug-Fit

: Post childbirth, you may find yourself caught in between taking care of your child while also looking after yourself. Postpartum pads should essentially be flexible and provide a snug-fit keeping you secure from leaks due to pad displacement from movement.

Support

: Maternity pads should be long and wide enough to provide complete support while you lay down or shift in your sleep. The pads should come with an adhesive back strip that secures them in one place and prevents leakages.
When we talk about the best maternity pads in India, we talk about Dignity Mom Maternity Pads from the house of Romsons.
Dignity Mom Maternity Pads are highly absorbent disposable maternity pads used for frequent bleeding during the postnatal period. Here's why our maternity pads are the best in India:
These maternity pads have high absorbency capacity which saves you from frequent changing of pads.

Dignity Mom Maternity Pads are crafted from the safest hypoallergenic fabric that prevents the sensitive skin of our new moms from allergies, rashes or irritation.

These pads control odor, making them suitable to last for long hours.

Dignity Mom Maternity Pads are made from the softest fabrics to prevent vaginal discomfort.

They are wider than other normal pads, and thus prevent back or side flow.

Adhesive strip on the backside of the pad offers a better grip and utmost comfort.

Side elastic gathers enable the pad to fit with body movements to prevent leakages.

The fluid is converted rapidly into gel providing a dry and clean feel.
For all our moms-to-be, your search for the best Maternity Pads in India ends here. We strongly recommend you invest in Dignity Mom Maternity Pads for 100% comfort, safety, and hygiene. These pads will effectively make your motherhood journey ten times easier and more comfortable. 
Lastly, we congratulate all our moms-to-be. Happy Motherhood to you all!
---
Share this