Wipe that Virus Away - Why Use Surface and Hand Cleansing Wipes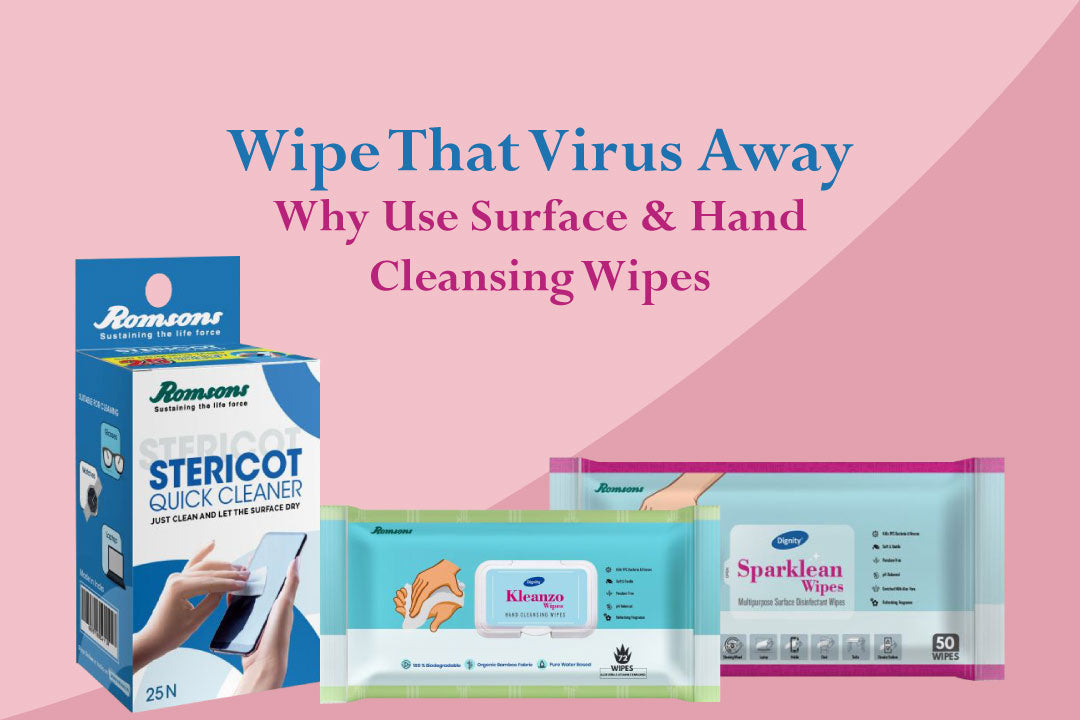 Wipe that Virus Away - Why Use Surface and Hand Cleansing Wipes
How should I wash my clothes? How should I clean my house? Can I catch the virus by staying out for long? Daily household chores have turned into a source of constant doubts and anxious thoughts. We all are trying our best to get the basics done without letting the anxiety and fear consume us while keeping our loved ones safe and healthy. Widespread misleading information about the virus adds to the stress of separating fact from fiction.
The spread of Novel Coronavirus not only raised awareness about the importance of maintaining personal hygiene but also sparked the curiosity of such a lifestyle amongst the masses. The pandemic drew people's attention towards disinfecting products to a great deal. 
Sanitizing and disinfecting wipes are not only useful for cleaning our hands but also contribute to the hygiene and well-being of our household. The appeal of sanitizing wipes in both the general public and healthcare fraternity is due to their convenience and ease of use. Caught up in this fast-paced life, we are all pressed for time. Thousands of people enjoy the daily benefits of sanitizing wipes, appreciating the usefulness and effectiveness they offer.
Sanitizing wipes are alcohol-based wipes you can use to clean your hands or multiple surface areas. They are soft and gentle on your skin but harsh on germs, viruses & bacteria. Even with the growing demand for disinfecting wipes, a huge chunk of the population still prefers cleaning it the old-fashioned way. Listed below are a few reasons why you should consider switching to sanitizing wipes if you haven't already:
These

 

disinfecting and sanitizing wipes

 

can safely and effectively be used on a multitude of surface areas like sinks, counters, office equipment, switches, gadgets and any other surface that comes into contact with dirt, grease, bacteria or viruses.
Sanitizing wipes make cleaning safe, quick, and convenient. 

It's easy to keep sanitizing wipes readily available, carry them around and dispose of after use.

They come in handy and quick for on-the-spot cleaning.
Romsons range of sanitizing wipes has what you need to keep yourself safe and protected from germs, bacteria & viruses. Infused with the goodness of Aloe Vera and Vitamin-E, these wipes are crafted from hypoallergenic fabric that protects your skin against rashes and allergies while killing bacteria and viruses. Their non-residual property also makes them easy on the gadgets but harsh on bacteria and viruses.
Dignity Sparklean Surface Cleansing Wipes are multipurpose surface disinfectant wipes that are suitable to be used for gadgets, furniture, handles/door knobs, vehicles, electrical switches, gym equipment, packed groceries, and so on. These wipes are paraben-free and hence gentle on the skin. They come in handy to get rid of 99% bacteria and viruses, while leaving a refreshing fragrance behind. Soft on the hands and surfaces, these prove to be harsh on bacteria and viruses. 
Keep the dirt and germs at bay with Dignity Kleanzo Hand Cleansing Wipes. These sanitizing wipes are paraben-free and are crafted from 100% biodegradable bamboo fabric. They are extremely soft, gentle, and safe for your skin. Effective in killing 99% Bacteria and Viruses, Kleanzo is safe to be used by adults and kids alike.
High-touch surface areas such as mobile phones, laptops, switches, etc. are frequently exposed to germs, bacteria, and viruses and can easily be a medium of virus/bacteria transmission. Keeping these multiple areas clean is essential for your protection. Romsons Stericot Surface Cleaning Wipes wipe out viruses and bacteria in seconds, leaving the surface clean and dry. Stericot also gets rid of dirt, fingerprints, and grease on gadgets. You can safely use these wipes on glasses, watches, and electronic devices without worrying about any damages or loss of colour.
With new variants popping up and spreading rapidly, one can never be too sure. The general public, especially the working class that may have been exposed to crowds, increases the risk of bringing in the unwelcomed virus into your household. Wipe that virus away with Romsons Sanitizing Wipes. To learn more about sanitizing wipes and other personal protection equipment, check out https://bit.ly/3ITW8KD
---
Share this