Cervical Collar For Neck Support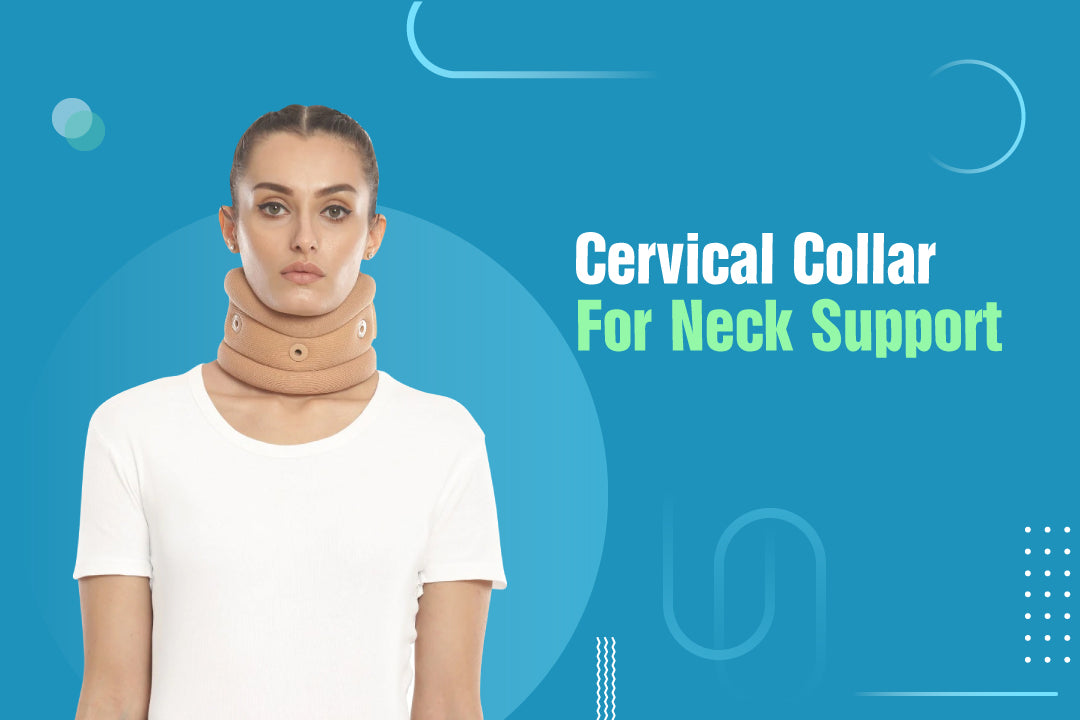 Neck Pain is a common complaint amongst the growing generation and adults in India. 
The pain can stretch from mild to debilitating real quick. Cervical collars are recommended by doctors and orthopedics to relieve the neck area from minor pain and injury by limiting its movement. As for more severe injuries, cervical collars prove to be an excellent aid that support and stabilize the neck before further inspection.
What Is a Cervical Collar?
Neck collars, primarily known as Cervical Collars, are used to provide support to your neck and spinal cord. Using a cervical collar for your neck and spine helps in stabilizing and limiting your head movement after an injury. The aim is to prevent you from moving your head and neck until the injury is healed. This collar is a common treatment option for neck injuries, neck surgeries, and in some instances of neck pain.
Cervical collars come in a variety of styles. The type of neck injury you have or the underlying reason for your neck pain will determine which one you require.
Primarily, there are three types of neck collars that one may need for general neck pain, stiffness, or injury. 
Soft Collars: They fit around the neck and are constructed of foam rubber, polyethylene, or occasionally an inflatable cuff. These collars restrict side-to-side movement while allowing some range of motion, primarily forward and backward. Soft collars are used for persistent neck pain, particularly in older adults, as well as for the recovery of whiplash and neck sprains.
Rigid Collar: These collars are constructed with a foam or vinyl core and a plastic shell. They are the most limiting neck collars there are. When doctors wish to essentially stop all neck movement in any direction, they utilize these. After surgery or in cases of serious injuries, such as cervical fractures, where healing will take a long time, a stiff collar is employed. Ordinarily, rigid or stiff collars reach from the mouth to the collarbone.
Sports Collar: These collars are an exclusive variety of rigid collars. In order to protect their necks from injury in the event of collisions or abrupt stops, race car drivers, motocross riders, and ATV riders are recommended to use these.
 Buy Now -  👉 
Soft collars are typically made of materials like felt, foam, or rubber (as already mentioned above). They fit snugly around your neck and lay just below your jaw. Some doctors may prescribe them to temporarily alleviate mild neck pain. Soft collars are likely to be effective in treating neck problems, the severity of which ranging from mild to moderate. 
Continue reading to learn more about the uses, advantages, etc., of a soft cervical collar as well as the risks associated with long-term use. We also provide information on how to clean and sleep while wearing a cervical collar.
What Are Cervical Collars Used For? 
The main purpose of  a cervical collar is to support and stabilize your neck and spinal cord by restricting the movement of your neck and head. Typically, soft cervical collars are  meant for short term use allowing you time to recover from an injury, surgery, or pain.
There are certain conditions that may require the use of a cervical collar. The conditions are as followed:
Whiplash or Trauma:

You have been involved in a car accident or have sustained injury from the incident. Doctors recommend these soft cervical collars to secure your neck area and prevent the same from further damage.

Surgery:

 Cervical collars are a requirement post-surgery as they immobilize the neck and head movement that prevents you from further hurting your neck and head area. 

Arthritis of the Neck:

Or more commonly known as Cervical Spondylosis refers to

wear tear caused due to aging that affects the spinal disks in your neck. This condition has no known cure, however, it can be treated and kept under check. Wearing cervical collars proves beneficial and provides temporary relief from the pain caused by spondylosis. Applying a hot and cold pack helps alleviate pain and soreness from joints and muscles. Click here to know more about the application of hot & cold gel packs. 
Nerve Compression:

If you are involved in activities that put a strain on the nerves on your neck, it is good to wear a cervical collar. The collar eases the pressure building on the nerves.

Neck Pain & Stiffness:

The daily lifestyle of a common man, especially one that requires him to sit on his desk for 8-10 hours with zero to minimal physical activity, is the cause of many problems, neck pain being a primary one. Cervical collars help relieve the strain and stiffness from the neck muscles easing the pain.
When To Use A Soft Cervical Collar?
The following three fundamental reasons are why you might have to wear a Cervical Collar:
Neck pain relief is the most frequent justification for using a cervical collar. This neck brace aids in supporting the weight of your head on your neck so that your neck's soft tissues can heal.

You must wear a cervical collar after spinal neck surgery to control the neck bone while you recover and get back to full health.

You are obligated to wear the cervical collar in cases of significant accidents as a preventative step so that the potential neck injuries can be assessed.
How To Wear A Soft Cervical Collar
Your doctor is likely to give you detailed instructions on what you should and shouldn't do while wearing a cervical collar, if you need to wear one.
For your convenience we have listed down the common practices to follow while using a Cervical Collar:
Avoid over or under-resting by moving instead. Walking is a gentle activity that might help keep your neck muscles from becoming stiff. Your rehabilitation may be hampered by stiff muscles.

Keep your posture upright. Avoid slouching or hunching over. Maintain a straight back, push back your back shoulders, a level head, and ears that are over your shoulders.

Stay away from low, flimsy chairs. Your posture may be impacted, and your neck may experience additional strain.

Be careful when lifting or transporting anything heavy. Do not engage in any intense exercise, such as jogging, or any other high-impact motion.

Keep your collar on at all times, with the exception of cleaning it or as your healthcare provider may instruct.

Make sure your collar is secure but pleasant to wear. If the collar is too loose, it probably won't give you the support you need, which could result in more pain or injury. If it's too slack, it could rub against your skin and lead to blisters or rashes.
Can We Use A Cervical Collar While Sleeping?
Our answer is Yes, You Can. You can sleep comfortably while wearing a soft cervical collar. A lot of people are skeptical about wearing a cervical collar to sleep. 
A soft cervical collar is designed to be worn comfortably at all times even while you are asleep, However, here are a few additional tips to keep in mind while sleeping with a Cervical Collar:
Ensure that your mattress provides adequate support. Extremely soft mattresses will not be able to provide the support your neck needs. 

Avoid bending your neck in any direction—forward, backward, or to the side.

Avoid sleeping in a bent position. Attempt to keep your neck aligned with your body.

Try sleeping on your back and using a thin pillow. You may end up putting your neck under stress if you use additional cushions.

To get out of your bed, roll softly to your side. Next, push yourself up using your arms while swinging your legs over the side of the bed.
To stop the growth of bacteria, it is crucial to wash your collar regularly. Infrequent cleaning of your cervical collar can lead to skin allergies and irritation. 
It is fairly easy to wash most soft cervical collars. They can be washed in a sink with warm water and mild soap, then spread out to dry. Avoid using harsh detergents, soaps, or bleach. They could result in skin reactions or allergies. 
It's crucial that your cervical collar fits properly when you re-apply it. If the collar is too loose, your skin may rub against it and develop pressure sores and irritation.
While we are on the subject of cervical collars, it is necessary to bring up Romsons Cervical Collar Soft With Support. 
Our Cervical Collars are designed to support and stabilize the neck and spine by limiting the movement of your head. These are highly recommended for relief from neck pain and stiffness, whiplash or injury. Romsons Cervical Collars are available in four different sizes S, M, L, and XL to provide the best fit. Some of the noticeable features are:
It is constructed from High Density PU foam that provides  improved support and immobilization.

It is crafted from Hypoallergenic material that prevents your skin from rashes or irritation.

The Anatomical Shape of the collar ensures a snug fit for better comfort and recovery.

The Skin/Nude Colored collar doesn't stand out too much, thus, making it perfect for both indoors as well as outdoors.
With our grueling lifestyle that requires us to sit around uncomfortably for longer hours, neck pain is bound to happen. Minor inconveniences and pain can easily be treated with a cervical collar that relieves you of pain and discomfort and prevents you from hurting yourself further. To know more about our protective Cervical Collars, click here:
---
Share this